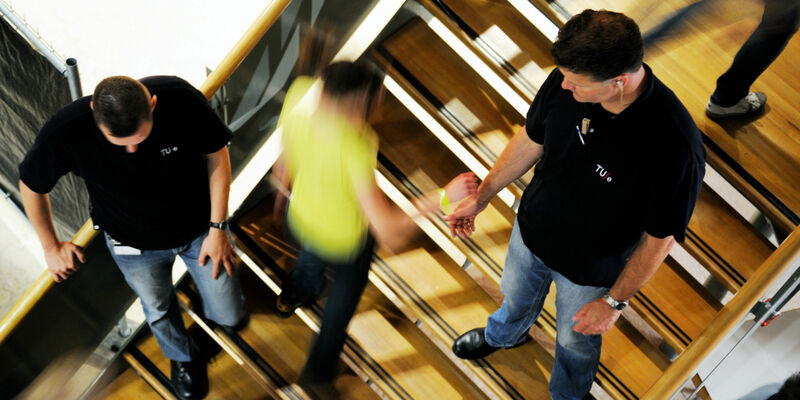 The University

,

Campus

04/09/2018
Uncertainty for receptionists and part of security staff
The decision by TU/e to hire two new caterers has prompted current provider Eurest to also cease its work relating to reception services and security. The tendering process for these services is still ongoing, leaving eighteen employees in uncertainty about their work here on the campus.
Seven years ago TU/e entered into a contract with Eurest Services; not only for catering, but also for reception and security services. When it was announced this spring that the university would be joining forces with two new caterers, Eurest decided to call time on the two other branches of its service provision and not to participate in the new tender process.
Consequently, eleven receptionists and seven security staff are currently facing uncertainty about their work at TU/e. The security staff in question - who are hired out to Eurest by the security company Trigion - form a "flexible shell" in addition to the permanent staff of fourteen on TU/e security's team. This shell is called upon for, say, events on campus or when a member of the university's own team falls ill, as Peter Bloemers, head of Safety & Security and Location Management, explains. "We draft in these people to top up our duty roster; whatever happens we must always have a team of at least three providing security on the campus."
This flexipool of security staff works not only for TU/e from time to time, but also at, for example, DAF or on the High Tech Campus, Bloemers knows. For most of the eleven receptionists, the situation is different; the university is their fixed place of work. For this group of Eurest employees in particular the current uncertainty is "tense and painful", believes Bloemers. "They are dependent on the new party that will be chosen."
Committed
Although the new party is not legally obliged to take on this (small) group of employees, Bloemers says that in the tender process TU/e has stated "that we would very much appreciate it if they were to discuss this matter with Eurest. Some people have been working here for years; they are familiar with our university and buildings, and feel committed to us - and we feel the same. For this reason we have explicitly requested that attention be paid to this matter. But we can do no more than make a request; ultimately this is a question for the departing party and the new parties."
Not however that there is any question of the present staff ending up on the streets. "If the new party does not wish to take on these people, they will still be employed by Eurest."
In the coming weeks, says Bloemers, a decision must be made about the new party or parties that will provide the university services in question, which form two separate lots in the tender. Thus it is also possible that two different companies will soon be taking on these services, with effect from January 1st.