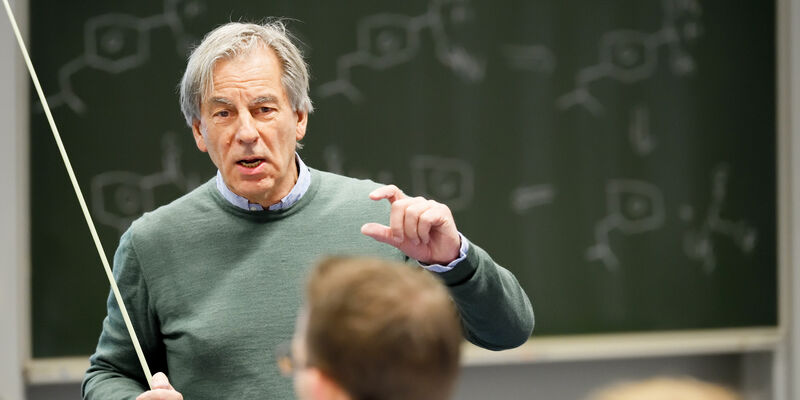 People

,

Research

24/04/2019
Bert Meijer enters American Academy of Arts and Sciences
Bert Meijer, professor of Organic Chemistry at TU/e, has been elected as a member of the American Academy of Arts and Sciences, an honorary society that recognizes and celebrates excellence across disciplines and professions. Meijer will be inducted at a ceremony in October in Cambridge, Massachusetts.
"I feel very honored by this recognition of the scientific work of our research group", says Bert Meijer. "Many PhD students, postdocs, students and employees in the group have made breakthroughs in research into functional supramolecular materials and systems over the years. The fact that this is recognized internationally is a great satisfaction and pride."
Michelle Obama
This year, the American Academy of Arts and Sciences has selected about two hundred new members. Among them are chemical and biological engineers, cell biologists, mathematicians, data scientists, philosophers, poets, artists, economists, academic and business leaders - including the former American First Lady Michelle Obama (the full list is available here).
Since his founding in 1780 the Academy has elected more than 13,500 members. Previous illustrious members include, amongst other, Benjamin Franklin, Maria Mitchell, Charles Darwin, Albert Einstein, and Martin Luther King Jr. Yet, only twelve of the current members come from The Netherlands, namely, amongst others, Robbert Dijkgraaf, Hans Clevers and Nobel Prize laureates Gerard 't Hooft and Ben Feringa.
Form of life
Meijer is Distinguished University Professor and Professor of Organic Chemistry at the department of Chemical Engineering and Chemistry, the department of Biomedical Engineering, and the Institute of Complex Molecular Systems of TU/e. His research focuses on the design, synthesis, characterization and possible applications of supramolecular systems with unprecedented properties and functions. It is founded on the principles of synthetic organic and polymer chemistry and aims at finding solutions to challenges in materials science and life sciences. "My dream", says Meijer, "is that at one point in time we will understand so much about how molecules work together, that we can make the simplest form of life in a laboratory."
Throughout his career, Meijer has received a number of top awards such as the Spinoza Prize (2001), the ACS Award for Polymer Chemistry (2006), the AkzoNobel Science Award (2010), the International Award of the Society of Polymer Science Japan (2011), the Cope Scholar Award of the ACS (2012), and the Prelog Medal of ETH Zürich (2014). In 2014, he was also appointed lifetime Academy Professor by the Royal Netherlands Academy of Arts and Sciences (KNAW).