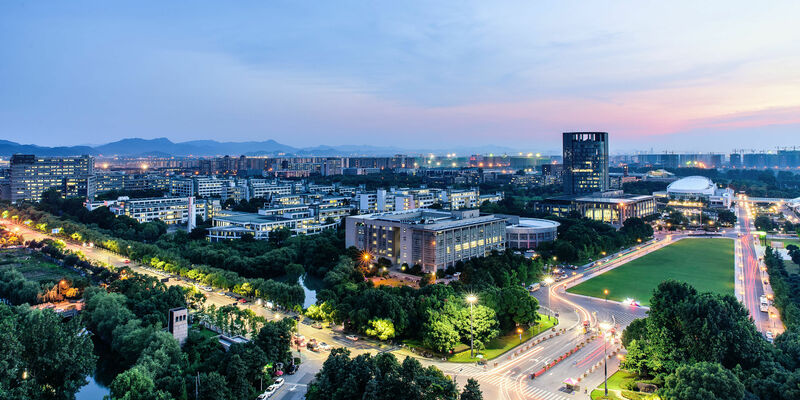 The University

,

Research

02/12/2019
TU/e starts joint research institute with Zhejiang University
TU/e has started a new joint research institute with Zhejiang University from the Chinese city of Hangzhou. This Institute of Design, Optoelectronics and Sensing (IDEAS) needs to form the basis for an enhanced cooperation with the top-ranking university from China, with which TU/e has had ties since 2005. In the first instance, IDEAS will primarily focus on technology for healthcare.
The intention is that six TU/e staff members will spend part of their time in Hangzhou and vice versa, says professor Ton Backx, who will function as scientific director of IDEAS on behalf of Eindhoven for the time being. "These will include Hans Wyss of Mechanical Engineering for sure, and Yuqing Jiao and Zizheng Cao from Electrical Engineering. Those last two were trained at Zhejiang University, so they're very familiar with the university already.
In addition, two people from Industrial Design will be working at the institute, Jun Hu and Yuan Lu, and one - Uzay Kaymak - from IE&IS." The agreement is that each participating staff member will receive funding for a PhD student to carry out fundamental research, Backx says. The only department that hasn't fully lined up its financing is IE&IS.
Zhejiang University is one of the best universities in China, Backx emphasizes. "Furthermore, they excel in the areas in which we are active as well. We have been working with them for fifteen years, in particular in the form of the Brainbridge program with Philips Research." There is also a joint Master's program with the Chinese university at Industrial Design, and there are several student exchange opportunities. "It's mostly students from Hangzhou who come to study here, but TU/e students also travel to Zhejiang University for a traineeship, or to graduate."
IDEAS needs to provide a stronger scientific foundation for new projects with companies such as Philips, Backx says. "In this collaboration, we will look at subjects that are relevant both to China and the Netherlands. We can strengthen each other in the field of medical application in particular, also because healthcare in China is organized in a completely different way than here. That is why the first projects revolve around basic technology for new sensors we want to use in healthcare. The explicit objective in the long run though, is to take a much broader approach."
Optical sensing
Hans Wyss, assistant professor in the Microsystems group (department of Mechanical Engineering), is one of the scientists from Eindhoven who will take part in IDEAS. He will be spending about two months a year in Hangzhou, he says. "It is an exciting opportunity to work closely together with researchers and students from Zhejiang University."
The project he planned to carry out at Zhejiang University revolves around being able to quickly characterize, among other things, cells, pollen grains, and algae. "Making progress in this area requires a combination of expertise in the fields of micromechanics, microfluidics, optical sensing, and machine learning. While my group has considerable experience in the first two topics, collaboration with our new Chinese partners within IDEAS is crucial, in particular regarding the last two topics."
That is why Wyss, in any event, will closely collaborate with two experts in the field of optical sensor technologies in Hangzhou. The idea is that the yet to be appointed PhD student will also regularly visit Zhejiang University, as will the students in his research group. "Besides pursuing the project, during these visits we will also work towards strengthening the IDEAS institute by establishing new contacts to other research groups at Zhejiang, identifying potential valorization approaches, and by exploring new collaborations and funding opportunities related to the collaboration."