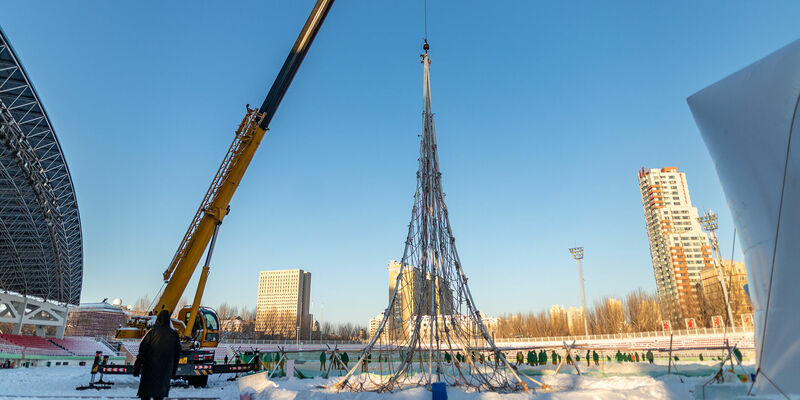 Research

,

Student

18/12/2019
Ice-printed Eiffel Tower gradually takes shape
Temperatures hovering around zero - dangerously high - looked likely to throw a spanner in the works in China's northern city of Harbin on Monday. This is where Arno Pronk, an assistant professor at TU/e's Built Environment department, is this week building a fourteen-meter tower with the help of his student team. Their building material is pykrete, cellulose reinforced with iced water. They are not the only team here, other participants have come from England, Finland and the US, as well as from host country China. Fortunately, later this week the temperature is due to fall to minus 25.
Last week Friday, accompanied by his student team, Pronk landed in Harbin, the city in northern China where he has already completed two ice projects in the past two years. This year he is working with students from his own department, with pupils at Eindhoven's Summa College and in cooperation with scientists and students of the local technical university.
A year ago he built a small but very strong gridshell using 3D-printed ice and in early 2018 he produced the Flamenco Ice Tower. For this he used his tried and tested technique of spraying cellulose-reinforced iced water onto an inflatable mold.
Eiffel Tower
The challenge this year is to build an Eiffel Tower look-alike using 3D printing methods. The structure will stand some fourteen meters tall. Pronk has evidently abandoned his plans for a forty-meter tower, an ambition he still held a year ago. Also absent in the new design are any references to Leonardo da Vinci, which Pronk previously intended.
The construction of the Eiffel Tower in ice will work to a ground plan based not on a traditional square, but on a pentagram. This, says Pronk is "to please the mathematicians for a change". The tower's load-bearing structures, slender supports that run to the top from five securely anchored corner points, are ice-filled fire hoses. The hoses are held together with ropes, and these in turn are sprayed with ice to keep the entire structure standing rigid.
Monday December 16th saw the temperature in Harbin come dangerously close to zero degrees Celsius, says Pronk, which made it difficult for the foundation slab and thus the anchor points to freeze over. Eventually, in the night of December 16th, the fire hoses and the complex rope structure could be hoisted up into place. According to Pronk, the entire structure is now cool; it is freezing up and awaiting the finishing process.
Pancratius Oudhoff, a pupil at the Summa College, is hopeful that things will carry on according to plan. "Everything's going pretty well, although it seems like I'm always on at night. We are working around the clock in three shifts. I don't find it cold, it's only minus 8, but they are expecting a temperature of minus 25 on Thursday. If it continues like this, it'll be fine. We are now waiting until the base has frozen solid, and then we can get the structure taut so that we can spray it with pykrete." At that stage, the fire hoses and ropes will be hoisted farther aloft, taking all the slack out of the ropes.
In February of this year Pronk gained his PhD for his thesis entitled, Fluid Architecture and Flexible Moulding. He presents a very extensive overview of 'fluid' architecture in all its forms and the various techniques it may involve. He also covers all the materials with which the fluid architect may work, including glass, composites, concrete and, of course, ice.