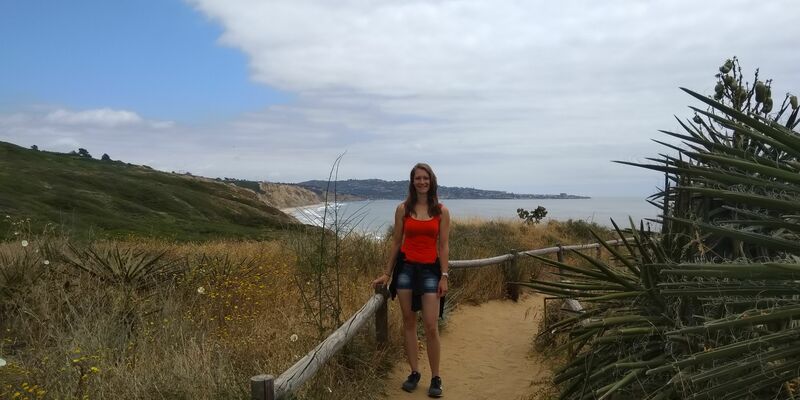 And how are things in San Diego?
Last August, when I started my master Medical Engineering, it also meant that I could begin to plan my internship! I wanted to find a good combination between the subject and the destination of my internship. Soon, California got my attention and when I found a very interesting research group in San Diego, I was convinced.
The contact with the professor in San Diego went smoothly, I was free to define my own project and I was flexible in planning my internship. Fortunately, I'd arranged my internship quite early, because arranging a visa in the USA takes quite some time (four-five months generally). I received my visa in January, so then I could plan the rest of my internship and holiday!
Before starting my internship, I travelled through California with my boyfriend. In three weeks we saw a lot, from big cities and beaches to national parks and deserts, California is very diverse!
I live in a beautiful apartment that I share with four roommates. The apartment complex is only ten minutes away from the campus by bike and also has a pool and hot tub. I'm very flexible in my work hours. I try to begin early, such that I have time in the evenings to work out, surf or to go to a restaurant or bar. In the weekends, I try to explore San Diego as much as possible, together with the friends I've made here. We mostly explore San Diego by bike (it's very bike friendly here) and by hiking in one of the many nature parks in San Diego County.
Besides all these activities, it's of course very important that you find an interesting subject for your internship. In the research group in San Diego, I found the combination between image processing, modelling and biomechanics I was looking for. During my internship, I investigate the feasibility of using ultrasound images to create patient-specific models of the heart to contribute to improved diagnostics and intervention timing.
It's a cliché, but I think that an experience abroad is really good for your personal development, since you really need to depend on yourself. Besides that, I really enjoy to get to know the culture and nature here. I absolutely don't regret my decision to go to San Diego and I'm going to enjoy another two months here!