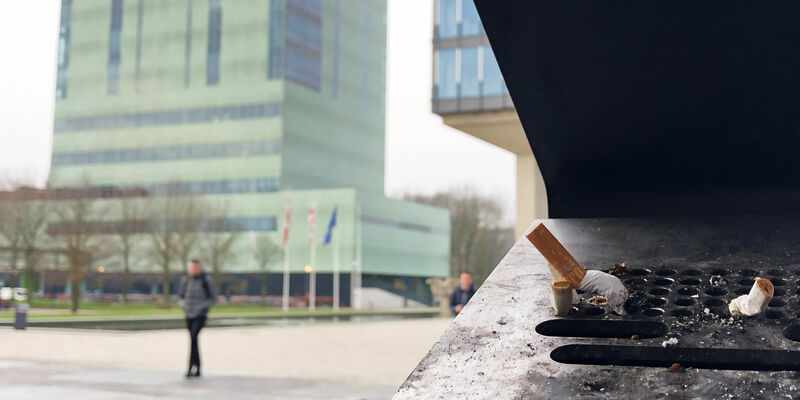 The University

06/06/2019
Campus-wide smoking ban at TU/e as of 2020
Smoking at TU/e, both inside and outside, will be banned by August 2020 at the latest. State Secretary for Health Paul Blokhuis imposes a smoking ban on every educational institution in the Netherlands with fines up to 4500 euros per violation. The state secretary announced this on Thursday.
Schools and universities will be made completely smoke-free, and the institutions are charged with maintaining the ban themselves. The new norm is laid down in the legal decree that was published on June 6. Affected and interested parties have the opportunity to respond to the ban, but their participation is expected to have little or no effect at all.
Self-regulation
The state secretary has momentum on his side in his fight against smoking. After bars, cafes and restaurants, and an increasing number of football stadiums, tabaco will now also be banned in schools and universities. Restrictive measures also apply to hospitals, sports clubs and child care facilities, but still on the basis of self-regulation for now.
"I hope that not a single extra penny will flow into the treasury as a result of this new law. Within a few years, our children will be amazed when we tell them that people used to smoke on school playgrounds," Blokhuis says. The time for self-regulation by educational institutions is over, he believes.
Grass field
There are still some issues left to be solved. One of those is how to mark the terrain of an educational institution for which a smoking ban applies. There are buildings on the TU/e campus that do not have a direct educational purpose, as well as several business companies and restaurant and cafés. And a part of the university terrain is public domain, or is adjacent to it. Blokhuis says the smoking ban strictly applies to buildings and terrains with educational purposes. As a consequence, a large grass field on the TU/e terrain that is used by many students during their lunch break has to be smoke-free according to this guideline.
Fine
Even though , the smoking ban and its enforcement will go into effect permanently. If controllers of the NVWA (Ministry of Agriculture, Nature and Food Quality) register a violation, it could mean the University has to pay an administrative fine of 4500 euros. The penalty will not be imposed on individuals who violate this smoking ban.
Civil Code
Floor van der Heijden, department of Occupational Health, Safety, Environment and Radiation Protection at TU/e, is happy with the decision. "We strive for a smoke-free generation and therefore support a smoke-free campus. Our campus can't be compared to a high school ground. There are a number of factors complicating the implementation of a smoke-free campus, such as a residential tower to which the Civil Code applies. This is something we need to look at carefully together with several experts."