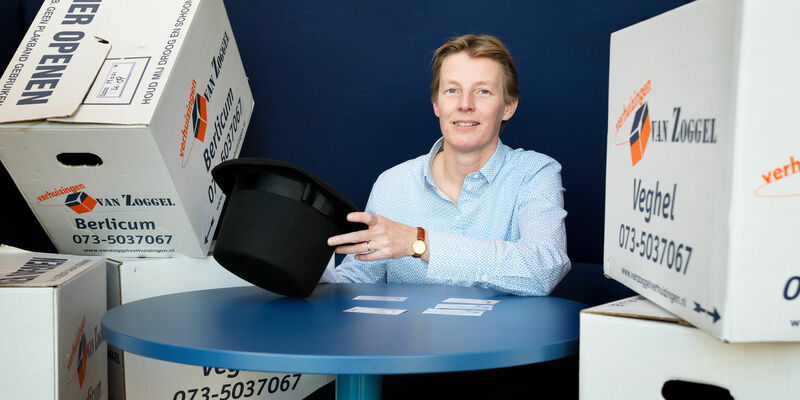 Hot Seat | "Enjoy what you've got"
She has just relocated 500 employees of Industrial Design and Industrial Engineering & Innovation Sciences, from the Paviljoen, IPO, Connector and Laplace to Atlas. Add to that all the students involved and you have a good idea what a mammoth undertaking this was. And still is, since it takes some time before everyone knows where and how they can settle down to work on eight floors of a gigantic building. Nonetheless Deputy Managing Director at IE&IS Simone Resing takes a moment to answer five intriguing questions in the Hot Seat and we discover what she can't do without.
What have you learned today?
"That personal contact with employees and students is very important. I deal with so many people that much of my contact takes place by email. Conversations that are held in addition to those mails reveal a lot more information. Only this morning, someone who had mailed about noise nuisance showed me a photo as 'evidence' of sorts. I saw students chatting somewhere that would indeed be disturbing for employees at work. But I also saw that they were busy doing tasks that didn't require them to be in that particular spot. So this is a matter that can be resolved. This afternoon I had a meeting with fifteen employees about their initial experiences in Atlas. Coming together and talking face to face increases understanding and leads to better solutions."
Who do you cherish most and why?
"My family. That's my husband Jacques Resing, a scientist at Applied Mathematics, and our fifteen year old son Jacco. We live in Lierop, in the heart of the village and have a lot of fun together. We all three play tennis at De Ren tennis club. It's a sociable group of people. I used to be the chair of the youth committee. Now that Jacco is older we can play doubles together in the club championship for seniors and at tournaments. It's great fun."
When did you last cry?
"When I answered the last question! Didn't you notice? Really, I had tears in my eyes because I thought it was such a moving question and because I'm so happy with my family. And grateful that we have such a comfortable life. I'm a rather emotional person, my eyes well up easily. Especially when I'm moved or happy."
What part of your body are you least satisfied with?
"What a difficult question. There are certainly parts I'm not happy with but nothing specific springs to mind. Nothing about it bothers me because I'm not a worrier. I am glad to be healthy. My slogan is, Enjoy what you've got." And because the rules of the Hot Seat state that one of the five questions can be swapped, Resing picks another.
What ritual is a 'must' for you?
"We tried to give Sinterklaas a miss last year. I was busy with the relocation and it came at a difficult moment. But I love that you get to see someone buy a gift and write a poem for someone else. That you make an effort for each other. Luckily, at the last moment I was able to buy a guitar and come up with a rhyme for Jacco. I don't want to miss Sinterklaas this year."
What would you like to become famous for doing?
"For playing sport. Ball games are my favorite. I'd love to play soccer for FC Barcelona, just like Lieke Martens. How cool is that, to be the best soccer player in the world and have everyone think that what you do is pretty skillful? I'm also aware of the disadvantages that come with being an elite athlete: intense training sessions and having to give up so much other stuff. I couldn't do without French fries and crisps!"