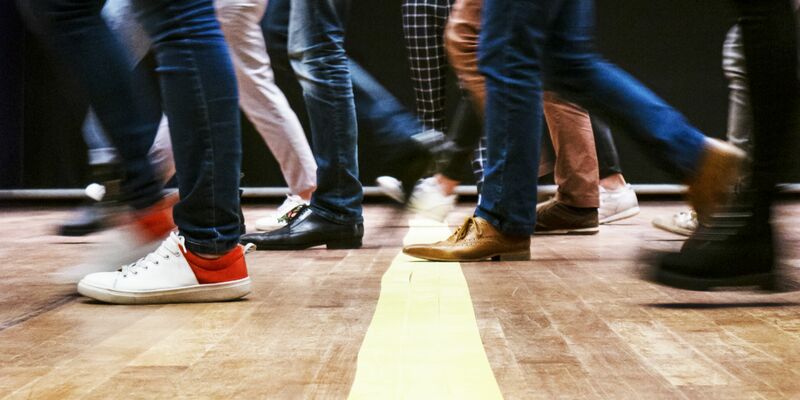 "We should pay more attention to our emotions at TU/e"
About thirty students placed themselves in a vulnerable position yesterday afternoon by taking part in Over the line. The purpose of this event, which was organized by Groep-één, was to show students that they are not the only ones struggling with their study and social or financial pressure. The questions got more personal as the afternoon progressed, and a noticeable large number of participants stepped over the line.
The students on the podium of the Blauwe Zaal feel somewhat uncomfortable. The idea is that they step over one of the three yellow lines that are taped to the floor when they agree with a statement. Boris Zwaan, one of the initiators and moderator of the event, quickly manages to put the students at ease.
The first question is easy: 'Who among you is taking part in an Over the line activity for the first time?' Except for a few individuals, nearly everyone walks to the other side of the podium. But the statements gradually become more personal. From 'I often feel that I don't have enough time to accomplish everything I set out to do during a day,' to 'I worry about the future.'
Advice
Quite a few students step over the line when they are asked whether they feel lonely sometimes, despite a busy schedule and an active social life. It also turns out that many participants sought council for their mental condition at some point. Zwaan tells them that there is nothing unusual about that and informs them that approximately six hundred TU/e students seek help from our university's student psychologists each year. In between statements he offers the students advice. 'Really listen to yourself. You don't have to take part in everything.' And: 'Try to be proud of your accomplishments.'
The session ends with what is probably the scariest question: 'Who wants to share his or her personal story?' The group remains still for about ten seconds until one participant dares to step over the line. She says that she almost had a burn out during high school. How did she know, Zwaan asked her. "I went on holiday, but it didn't feel like holiday."
Then, someone else speaks out as well; a student who was on the board of a study association last year but was hardly able to enjoy the many social activities. "I'm less busy now and enjoy these things more. It's easier to say 'no' when I don't want to do something."
A third student steps forward. He says he had too much on his plate in retrospect and offers his fellow participants and advice that was helpful to him: "It's okay to quit something. It's actually not such a big step, no one will blame you."
Easier with strangers
Afterwards, the participants are enthusiastic about the Over the line. "A friend of mine who helped organize the event told me about it and I was curious," says BMT student Marjolein Pijper. "The fact that you're among strangers makes it easier to open up. I feel we don't pay enough attention to emotional matters at TU/e anyway. We all have to deal with these things, as this event makes clear."
Bulgarian students Petya Boncheva (IE&IS) and Anna Minkova (Industrial Design) found Over the line very helpful, mainly because of the meeting's accessibility. They both say that they experience study pressure and that it cost them a lot energy to get used to Dutch culture and to integrate. Minkova says she just found out that there are student psychologists at TU/e, and that students who feel the need are welcome to talk to them.
Student Wellbeing Team
Marloes Hartman and Rachel Philips, the two student psychologists who were present at yesterday's meeting and who helped with the preparations, say that efforts are being made to make the presence of student psychologists at TU/e more widely known among students. Hartman: "Events like these are can help as well. In addition, it's also helpful for students to know that they need to speak to their academic advisor first before they are referred to us, should it be necessary."
Over the line is an activity of the Student Wellbeing Team of Groep-één. The student fraction made performance pressure a spearhead of their activities this year. They hope to make the issue a point of discussion among students and wish to offer help when possible. Two earlier meetings on work pressure among students were held in October and another meeting will probably take place in April.