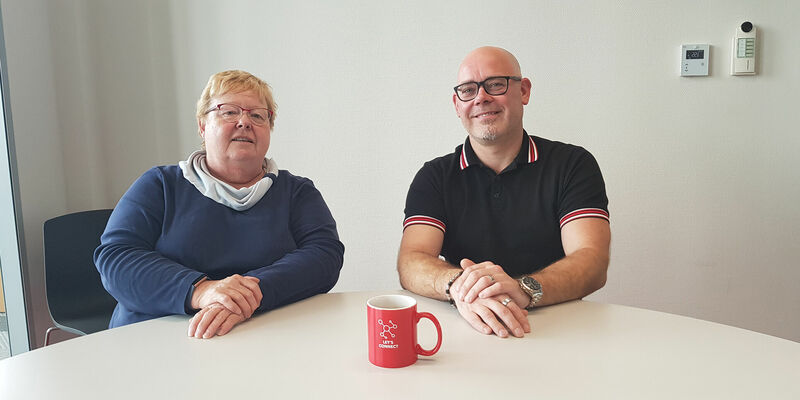 The University

16/10/2019
"Don't think of us as a police officer, but as a builder of bridges"
The Services Council (DR) represents the interests of the staff members of TU/e's support services. Not everyone is aware of the existence of this co-determination body and of its exact activities, and finding new council members for each new election requires a lot of work. DR-chairwoman Anneliese Vermeulen says that the council has been operating more proactively recently. "That means consulting with a proper prepared agenda, so that we provide more targeted input."
The substantial reorganization of the educational support services that took place two years ago, or bringing together practically every support service on the top floors of Atlas at the start of this year. These are two operations that had a serious impact on the support staff, and to which the Services Council made a significant contribution.
"Nicole Ummelen, who was university secretary at the time, involved us during every step of that first project, also known as the TOO project. The Services Council greatly appreciated that, and fortunately things were no different when the services moved to Atlas. We were allowed to provide a great deal of additional input during that project as well, but we need to take a few more steps to optimize it," says DR-chairwoman Vermeulen, who works at the Communication Expertise Center (CEC).
The council is currently occupied with the Executive Board's wish to introduce English as the working language at TU/e in early 2020. DR-member Jochem Vervoort: "Obviously, we want to know what kind of effect it will have on the support services in general and on the work pressure for staff members in particular, which is high already. Not everyone has a command of the English language at the required level, and should people with an inadequate command take language lessons? Will that take place within or outside working hours? Fortunately, our voice is heard as far as this issue is concerned."
Consultation
The first person who listens to that voice, during the Service Council's regular consultation meetings, is university secretary Susanne van Weelden, who occupies that position since early February. According to Vermeulen, consultations between the council and the new secretary proceed well. She also takes the points made by the Service Council into account, "and actually comes back to them later," Vermeulen says laughing.
The fact that not each of the Service Council's thirteen seats is currently occupied may perhaps seem alarming to some, but Vermeulen and Vervoort will not be discouraged. Vervoort, who works at Real Estate Management, says that he was previously active within a works council in the business sector, and that his decision to serve as a member on the council was a logical one. "When I arrived here, I found a busy organization where people worked hard and had much ambition. That fuels my desire to gain a broader perspective, and to find out how things work and what goes on. Serving on the Service Council provides you with ample opportunity to do so."
The same applies to Vermeulen, and she adds that it would be a good thing if the Service Council were to be represented university-wide. "In the current situation, the council is not represented by staff members from each service, and only ten out of thirteen seats are occupied. The election of new members has been taking place practically unnoticed for years, because there aren't enough new candidates. That's a shame, because you want to present voters with a real choice in early December. When we're looking for new candidates, people often say 'that's of no concern to me,' or 'things are fine as they are,' or 'I'll solve my own problems.' Lack of time is another argument people use, and you do indeed often read policy documents in your own time, that's true. But you get a lot in return; that also applies to young people who start their careers here. You immediately learn a lot about the organization, about policy, how financing works, including at your own support service, and you build a network that runs through all the services."
Make a difference
Vervoort confirms this and says that the Service Council's approach is predominantly constructive. "We mainly have advisory right, so you shouldn't think of our role within this organization as that of some kind of police officer who shows up when there's a conflict. We much prefer to operate as a builder of bridges, sometimes with large-scale projects, but most of the time we concern ourselves with smaller issues that we can solve quickly. That's where we can really make a difference."
---
On Tuesday the 22th of October the Service Council organizes an election meeting in Atlas 11.325 from 10:00 till 11:00 AM. Here all information can be obtained about what the Service Council exactly does and you will hear about the kind of work you have to do as a member of the Service Council. There will also be the opportunity to ask questions.