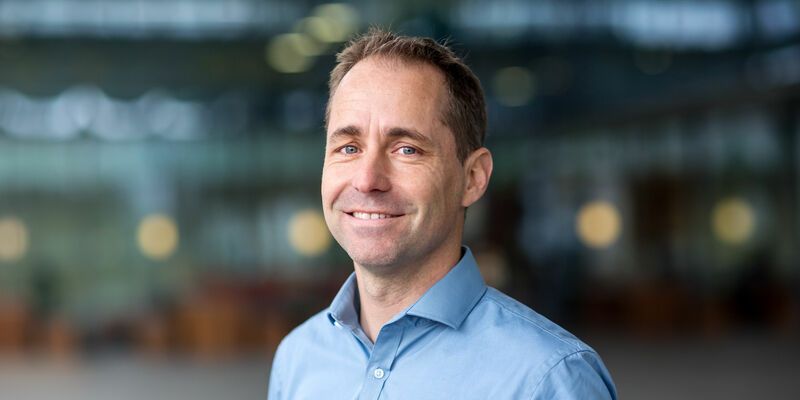 The University

21/10/2019
Professor Maarten Merkx new Dean of the Department of Biomedical Engineering
TU/e has appointed Maarten Merkx as the new Dean of the Department of Biomedical Engineering, as of 1 November. Merkx has been working at TU/e since 2002, and since 2015 as professor of Protein Engineering. Merkx succeeds Peter Hilbers, who was Dean of the department for twelve years.
Rector magnificus Frank Baaijens: "As a board, we are proud and delighted that we can appoint a dean from within our own ranks. We are convinced that Merkx has everything to successfully lead the department. He has been involved in it almost since its foundation. He knows the department through and through, and he knows the challenges."
Merkx (1970) studied Chemistry in Nijmegen, obtained his PhD in bioinorganic chemistry at the University of Amsterdam, and then did postdoctoral research at MIT in the US. In 2002 he started as an assistant professor at TU/e. In 2006 he received a Dutch Research Council (NWO) VIDI research grant, and in 2011 a Consolidator Grant from the European Research Council. He has been elected master lecturer of the year four times. In 2015 he was the only Dutch scientist invited to speak at the World Economic Forum in Davos.
Merkx will undertake his role as dean in close collaboration with Rob Debeij, director of business operations, and with two new vice-deans, professors Josien Pluim and Keita Ito. Together they will be responsible for working on better national and international visibility of the department and the education of young scientific talent. In addition to being dean, Merkx will continue to work as a scientist and spend about half of his time leading his research group.
"I am grateful for the trust I have always received here and see this as an opportunity to give something back," says the new dean about his appointment. "The department is a fine working environment with short lines of communication and good personal relationships. I think that Biomedical Engineering has a lot to be proud of and that we should be promoting it more often. I am looking forward to working with the other members of the department board, and I will also be calling on the plentiful expertise and talent within our department for the work of the board."
Now that he no longer holds the office of dean, Peter Hilbers will once again fully focus on science. Merkx thanks Hilbers for his great dedication as dean: "It is partly thanks to his tireless efforts that the department can look to the future with confidence."