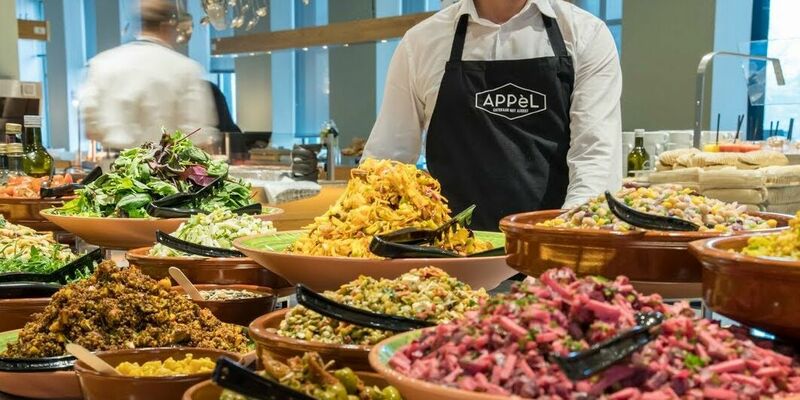 The University

,

Campus

09/04/2020
New caterer Appèl brings Subway back to campus
Appèl from Den Bosch will be TU/e's new caterer. The collaboration starts on 6 July and will run until at least 2025. Hans Zwartkruis, sales manager at Appèl, is very happy that his company managed to secure the contract. "We narrowly lost to VITAM during the last tender procedure, but now we can start after all." Appèl will no doubt make itself popular among students with its decision to bring back Subway. "But we also won't forget about the staff," Zwartkruis says.
Appèl came within an inch of securing the contract for a new caterer during the last tender procedure in 2018, but now they've managed to win TU/e as a client after all. Sales manager Zwartkruis: "We were very disappointed at the time, but we got a second chance relatively unexpectedly, and this time we were successful."
The catering staff was informed this week by VITAM that a new caterer had been found. "We usually want to turn such an announcement into a special event, for instance by inviting them to our head office in Den Bosch, but that obviously isn't possible now," Zwartkruis says. "We are preparing to approach all the employees and have talks with each one of them individual as soon as possible."
Zwartkruis, too, acknowledges the fact that these are strange times to start a new job like this one, "but we have the advantage that we already collected much information about TU/e during the last tender procedure and that we're familiar with the campus and the catering locations. Since the campus is practically deserted now, and perhaps until the summer holiday, taking over from VITAM in early July will be considerably less hectic. That's our advantage in this crisis period."
Appèl, which was founded in 1978 and started as a provider of services for the Theater aan de Parade, has been providing the catering for the Twente University since 2018, as well as for four universities of applied sciences. "That's why we set up the division Appèl Campus two years ago, which focuses on catering for research and applied sciences universities," Zwartkruis says. "Because providing catering for these kinds of institutions is a bit different from regular company catering."
Subway and Brownies&downieS
The first thing Zwartkruis wants to report is that Subway will return to the Auditorium. "These kinds of brands with their successful format attract people, and that's why we aren't afraid to include them in our catering assortment. We will also accommodate a Brownies&downieS branch-store on the ground floor of Atlas. Employees are very enthusiastic about that and are very proud that they will be working on a university. It's a unique project for us and the TU/e." It's also likely that the Auditorium will have an unmanned coffee machine from Starbucks.
Zwartkruis says that his company has learned a great deal from its experiences at the Twente University and from the lessons learned by VITAM during the past fourteen months. "Offering the right assortment on each location for the right prices is something we will focus on immediately. Of course, there's the basic product range we've made agreements on with TU/e, such as bread, salads, dairy products, soup and a warm snack. For us, it will be important to determine what else we will offer."
Taste of America
Appèl has developed several concepts for that, which alternate throughout the year, Zwartkruis says. "There's Taste of America, a Scandinavian theme, or a concept in which dishes from the Middle East play an important role. At other times we will have meals with fish on offer, or a vegetarian dish. And we will constantly need to carefully consider for whom we make our food and how much that group is prepared to pay for it. That process will take time, but that's something we've taken into account. We expect that it will take us almost a year before we fully get the hang of that."
The two SPAR supermarkets on campus are competition, obviously, Zwartkruis realizes, and they might take away some of his company's turnover. "We know that, and we will simply have to accept that." However, he is relieved to hear that the SPAR store in Flux will soon close its doors. "That's certainly good news for us."
Training for staff members
Naturally, Monique Kuyck, head of Operation Services & Location Management and in charge of the tender procedure, is content with newcomer Appèl as well. Kuyck had to quickly find a new caterer after VITAM's premature departure, announced by TU/e and VITAM in November of last year. Kuyck: "We eventually had a choice between two good tenders, and Appèl scored slightly better on points such as assortment and flexibility."
Zwartkruis says he is looking forward to it, and he also wants to kindle the enthusiasm of the staff, currently still under contract at VITAM. "We invest much in our food concepts and in training and extra training courses for our staff. When our service is in order, our customers will be satisfied, and when our customers are satisfied, we can provide our staff members with some extras."
Zwartkruis expects to have converted all locations by the end of August, after which Appèl can start to provide catering for students and staff members.