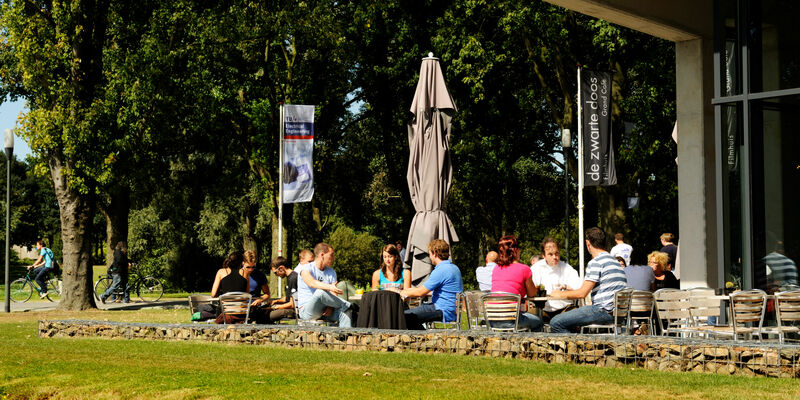 Corona

,

Campus

29/05/2020
Cafes and restaurants on campus reopen step by step
It won't be anything like before, but as of next week it will be possible again to buy a sandwich in the canteen, order a cup of coffee on a terrace, or have lunch there with four people. The Zwarte Doos, Hubble and the canteen at MetaForum will open their doors a soon as possible.
Going to a terrace for lunch or drinks at Hubble Community Café will be possible again as of June 1 for those who made a reservation. Many tables and chairs have already been removed to ensure that everyone can keep the prescribed distance. In addition, stickers have been applied to the floor of the café run by students, and there are plexiglas screens at the bar. The menu is limited, manager Peter Joosten says, and "you need to pick up your order at the bar yourself, but that's not any different from pre-corona times."
Hubble's treasurer Leon Willems says that he was ardently waiting for the news that the café will be allowed to reopen. "We watched all the press conferences with much interest. Hopefully, it will become increasingly possible to return to our former level. The café is an important meeting place and was well-frequented." The café's most frequent guests, the members of the cultural associations, won't be using Hubble as a rehearsal space for the time being. Willems and Joosten are very curious to find out how many people will make a reservation. "We will adjust our opening hours according to the demand. It's all new to us too."
Getting a sandwich
The canteen in MetaForum will reopen as of Tuesday, June 2. It's difficult to say anything definitive about the number of people who intend to make use of it. Monique Kuyck, head of Operational Services: "I know that there are many people present on campus during the day, but the number varies from day to day. We have contractors, researchers in labs and people from the facility services working on campus. TU/e authorized some thirteen to fourteen hundred people, but just how many people actually come to campus can't be said. There are people at work in the building of Fontys as well, and Fontys keeps its catering closed for the time being, these people might also come to our canteen."
The assortment is, understandably, limited. "Think of soups, filled sandwiches, some drinks. In any case, everything is packed and to go," Kuyck says. The initial idea was to build a distribution point in the Markthal at MetaForum, but in the end it was decided to open the existing canteen after all. You can't enter the canteen from floor 1, the – separated – entrance and exit are on the ground floor. Apart from the assortment, time is limited as well: you can only get food there between 11:30 and 13:00 hrs.
Kuyck is very curious to find out who will make use of the canteen, but otherwise it's business as usual. "And it's only one canteen. We have been busy making the buildings on campus corona-proof for some time already, it's not that exciting to me anymore."
Wait and see
The canteens other than those in MetaForum remain closed. However, they will all receive a so-called 'in-depth cleaning' in the coming weeks because VITAM will hand over the keys to new caterer Appèl on July 6. No major adjustments have been made to the canteens yet. "The canteens are fine as they are, and we don't know at this point how many people will show up in September," Kuyck says. "Let's first make do with what we've got. We haven't invested in a renovation to make space available for a Subway either at this point."
The Zwarte Doos will reopen for seven days a week in June. Even though there's room for no more than 25 people with a reservation inside, the terrace outside can be enlarged all the way towards the pond. "Caterer Vermaat has something to offer there that you can't find in the city center," Kuyck says. "Space, nature and calm. It's a wonderful spot when the weather is nice." We still have a long way to go, she realizes, but it's nice that we can return to normal when it comes to certain things. "Keeping distance, not seeing each other, that's not for me."
Like most canteens, the bars of the study associations will remain closed until further notice. "With the limited restart of campus, we give priority to education and research activities," says Susanne van Weelden in the Executive Board's most recent update.