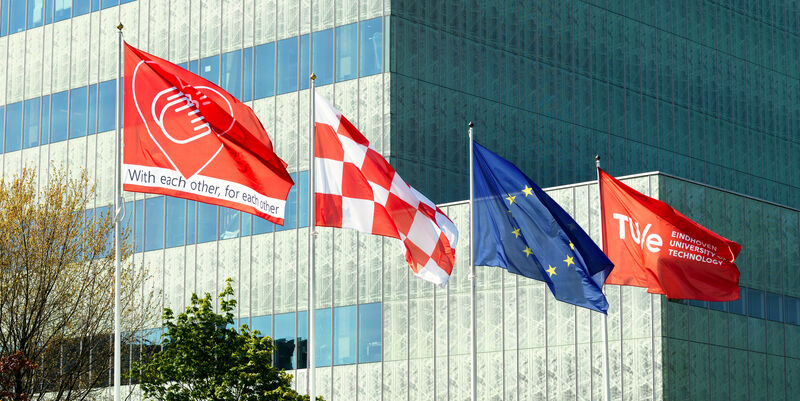 Corona

,

Education

,

Research

17/04/2020
"We are preparing for the one-meter-fifty university"
The Executive Board of the TU/e is seriously considering the possibility that the corona virus will not yet be fully under control when the new academic year gets underway. Rector Frank Baaijens: "For this reason we are preparing for the advent of the one-meter-fifty university." This means, he says, that some of the university's education will be offered on campus, and some of it online. But the Board hopes that it will be possible before the summer vacation to see a return to work - on a limited scale - in the labs. Protocols for this have already been prepared by a working group.
That the situation is not yet back to normal at the start of the new academic year in September is a scenario the Executive Board is taking seriously given the latest information. "When it comes to getting us out of this crisis situation," says Rector Frank Baaijens, "it looks like a vaccine is the only real solution, and at the moment a vaccine isn't expected to be available in the short term. So at TU/e we must be prepared for the eventuality that in September we'll start running a one-meter-fifty university. Thiscould mean that in the first quartile of the academic year 2020-2021 we won't be providing all our education online as per now, but that we will use blended learning. Thus some of education will take place on the campus."
Looking at the last few months of this academic year, the Executive Board is very pleased with how students, lecturers and auxiliary staff are doing everything they can to deal with any delays in the teaching and learning process that may arise. "The exam period in Q3, which is nearing completion, has gone very well," says Baaijens. "We had 370 exams planned in total. Of those exams 92 were held using online proctoring, and all except one went well. The one that went wrong, the first-year Natural Sciences examination on Monday April 6th, was due to a shortage of server capacity. That problem was solved the next day. The suspended exam will be resat on May 20th. By then the students will still be reasonably familiar with the material and it will save them having to wait for the last exam period. Some five percent of the students had individual problems that made it (partly) impossible for them to participate in exams. And although that percentage was in line with our expectations it creates problems for individual students. For all those students we will seek a solution. But given the speed and the circumstances under which this work had to be done, this is a very good result."
Within the Netherlands' academic community online protoring during an exam period on this scale has never been done before, says Baaijens. "Strong interest is being shown at other institutions in how we managed this feat in such a short space of time. Our aim in doing all this is to minimize any delays to students' studies, so that we won't need to play catch-up during the summer vacation or in September. And it seems to be working."
Working in the lab
For doctoral candidates relying on lab work in order to continue their research studies, the Executive Board hopes, based of course on decisions taken by the government, that it will be possible to resume lab work before the end of this academic year - on a limited scale. "A working group has been busy drawing up protocols for this," says Baaijens. "But even if it is announced this coming Tuesday that a relaxation of the rules is permitted, it will certainly be early May before these protocols are implemented and the labs can reopen on a limited scale. But, here too, we are going to do our utmost to prevent anyone suffering a delay to their doctoral studies."
Furthermore, Baaijens thinks that many doctoral candidates can continue their doctoral studies by working from home, "but the situation is different for our trainee designers, those studying for a PDEng. To start with, being only two years, their study track is much shorter than that of our doctoral candidates, so they have less leeway. The likelihood of problems arising is something that will have to be examined on a case by case basis and the Graduate School has started this work." Baaijens hopes attention will also be paid to the emotional impact this situation is having on doctoral candidates and those studying for a PDEng. "I expect that our supervisors will also be discussing this with their doctoral candidates."
Budget
The effect the present crisis will have on the TU/e budget, according to Nicole Ummelen, Vice President of TU/e, cannot yet be stated. "Of course, it will have consequences, but at the moment nothing definite can be said on this point. It depends on a multitude of factors, such as the student intake in September and the revenue gained from contract research funding, and on ongoing developments in fighting the virus. What we can say, however, is that at the moment the university is financially sound. Thus, in the short term nothing need be adjusted or changed. Nor will there be any consequences for employees. We are already trying to look ahead to a likely framework for the year 2021, but it is too early to bring any analyses to bear on that. I expect it to be the end of the calendar year 2020 before we have a better understanding of the financial impact this will have on us."
On the topic of operational management in a general sense, she says that at present and in the near future staff working for IMS and for Real Estate Management will be heavily relied upon. "IMS, of course, are already fully occupied enabling online education and online exams. Real Estate Management will play an important role in the implementation of the protocols so that education, research and working on the campus can be resumed on a limited scale as soon as this becomes possible."
Cooperation with business sector
Similarly, there is little to report on the consequences the crisis will have on business sector cooperation with TU/e. Board President Robert-Jan Smits says he is regularly in touch with Brainport and with Mayor John Jorritsma. "For many businesses in our region, their first priority now is keeping the business afloat. For some companies the consequences to date have been limited, but there are also companies that are virtually at a standstill. We are working on the understanding that cooperation agreements made prior to the current situation will be honored. And, together with Brainport, we are looking at those areas where we can expect rapid growth once the crisis is over. Think, for example, of things like artificial intelligence and all manner of issues relating to energy."
On the matter of temporary financial support for start-ups, TU/e is talking to BOM Brabant Ventures and Rabobank about a fund for that, Smits explains. "Naturally, existing agreements will be respected, but going forward we'll be looking at the basis underpinning the estimated earning capacity of these young companies."
According to Smits, the 'Knowledge worker scheme' has been dusted off also; some ten years ago this arrangement made it possible for industry to offer its scientists a temporary placement at the university. "We are looking at it and already discussing it but, of course, we are hoping the situation won't get so bad that we have to resurrect it. In the best case, companies here in the region will soon be able to restart their activities and get their employees back to work."