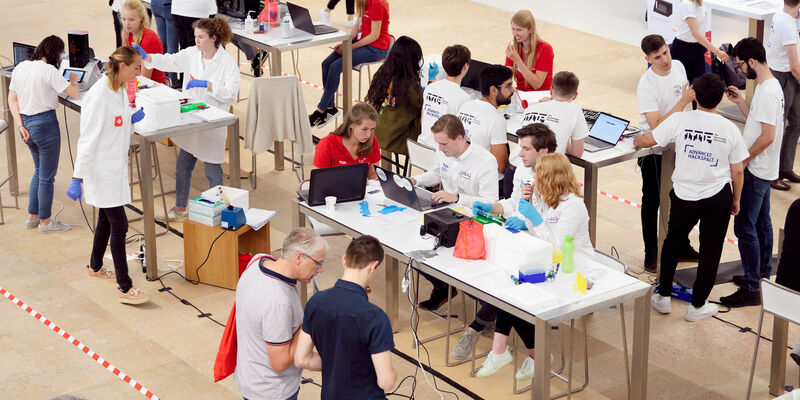 Corona

,

Education

,

Research

,

Student

14/08/2020
SensUs fully digital this year
No teams from Egypt or the US staying in tents or log cabins on campus this year during the SensUs week. Due to the coronavirus, the organization was forced to move this edition of the student competition for medical biosensors completely online. However, all those who are interested can follow the pitches of the fifteen participating teams via SensUs Digital on Friday afternoon August 28 from 1:00 p.m. until 4:30 p.m.
For this edition of SensUs, participants were asked to develop a sensor to measure the epilepsy drug valproate in a drop of blood. Patients would be able to determine the optimal dosage of this drug themselves with such a sensor. About fifty million people worldwide suffer from epilepsy, making it the most common neurological disorder. The World Health Organization (WHO) estimates that seventy percent of epilepsy patients will stop having seizures typical of epilepsy with a correct drug usage.
Unlike in previous years, when space on campus was reserved for test setups for teams that took part in SensUs to show how (well) the biosensor they developed worked, the 'testing event' won't take place this year due to corona restrictions. In addition to the fact that not all international teams can travel to Eindhoven, some teams also didn't have enough time to bring their plans for the biosensor into practice due to the corona measures in their countries.
Focus shifted
That is why the competition's focus was shifted out of necessity from the technical part to the theoretical and economic side of the ideas, says Cecile Hamming of the organizing team. "We chose to put greater emphasis on the pitches, during which the teams talk about their business model; how do they plan to bring the sector to the market."
Those pitches, of four minutes each, can be seen live via digital platform SensUs Digital and via YouTube. The international jury, composed of experts from various backgrounds, will also be virtually present this year. The fifteen participating teams come from four different continents. "Because of the different time zones, we made the program a bit shorter – we don't want teams to have to make a pitch in the middle of the night."
Experts
New at SensUs this year is the Express Venture Building Program, which was set up in collaboration with HighTechXL, Hamming says. "In the week during which the competition takes place, this year's SensUs teams and those who took part in previous editions can follow a digital program about how you can bring a finding like this to the market. Participating teams will have the opportunity to collaborate with experts from the biosensor sector. Those experts will try to bring the best out of the teams via workshops as well as feedback and mentor sessions."