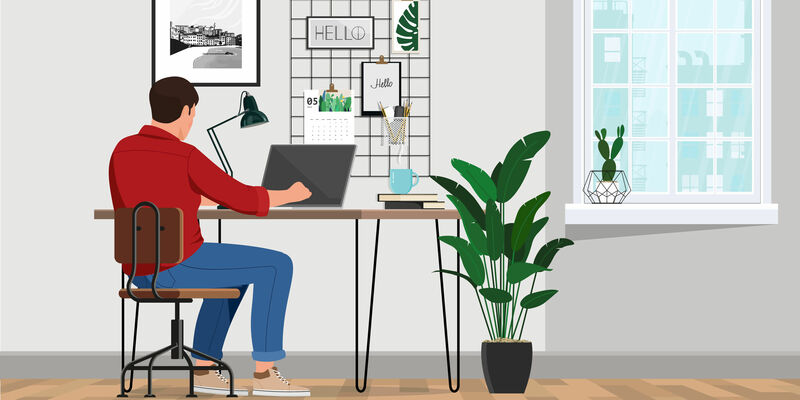 Corona

,

The University

21/08/2020
Working from home still the motto at TU/e
In the coming period, the university will continue to explicitly request that employees work from home if they do not need to be on the campus. Board President Robert-Jan Smits is counting on solidarity among staff. "Those for whom homeworking is more problematic should be given priority in returning to the campus," says Smits. Every student will soon be able to follow one course a week on campus. But this commitment does depend on how the corona crisis continues to develop in the coming weeks, according to Smits.
Next week Thursday August 27th, the Executive Board will present a new overview of the rules that will apply to employees and students at the start of the coming academic year. Executive Board President Smits describes its development as "a complex puzzle" and it is, he says, continually responsive to the changing circumstances and the decisions the cabinet takes in response to them. Smits makes reference to, among other things, recent developments in the United States, where some universities have sent their students back home, having first admitted them to the campus. "We don't want to see that happening here," says Smits. "People in Brabant are very worried about a second wave of infections. Any possibility of such a development being due to our students is something we want to avoid. Consequently, we are taking a very cautious approach to partially re-opening the campus."
Loyalty
Employees with no pressing need to be on the campus may be asked to continue working entirely from home. "People with small children or a home workplace that is less than optimal should be given priority to return on a limited scale – starting with one day a week – to the campus. I'm hoping for the loyalty of their colleagues who are having an easier time of working from home," says Smits.
At the moment the aim is to offer every student at least one course a week on the campus. "Working out how that could be organized in the buildings has been a complicated matter," Smits tells us. "For example, how the lifts and the lecture theaters can be used safely. A great deal of work has already gone into this and I am keen to see the rules that are chosen being applied in time to the whole campus." One of the measures Smits is referring to is the intention some departments now have of presenting people with a yellow or red card when they fail to observe the distance rule. Red means that the individual must go home. "We are going to discuss which rules to adopt, and these will then be applied across the whole organization. We aren't going to have one rule for one department, and another elsewhere. That would only create confusion."
Concerted effort
The intention of certain departments to claim their building for the exclusive use of their own staff and students is not something Smits will hear of. It would mean, among other things, that students who need to take a course at a location outside their own departmental building would be denied access. "That's not going to happen. You cannot close your building to the rest of the community," says Smits. "We are in this situation together and if we are to make the best of it in the coming weeks and months we must act in a concerted manner."
Smits also reports that work is underway to develop a "Brabant-wide standpoint" for the student associations. This is a joint effort between TU/e, other educational institutions, the municipality and the SE Brabant Safety Region. "It is intended to give the associations some guidance in deciding what they can and can't do when they are organizing activities and events in the city and on the province's campuses. We would like to announce the rules that result from this process before the start of the new academic year."
Internationals
At the moment TU/e has no knowledge of the number of international students who have already arrived in Eindhoven. And no idea at all how many internationals are now quarantining at home in Eindhoven because their home country has a code orange or red. According to the latest prognosis by the Business Intelligence Cluster, the intake of foreign students for this academic year will number some 650 for the bachelor's programs.
Smits says that it would be much appreciated if the international first-years could report their arrival, "but we cannot force them to report. They are, of course, independent young adults who are responsible for themselves. Having said that, this year we will be running the buddy system, a system that we set up for this group a number of years ago, for longer. A senior student normally guides a newcomer from abroad for about six months; this period has now been extended to the whole year. I urge anyone in this group who is already struggling with problems to report to us as soon as possible. We want to help and our people at Education & Student Affairs (ESA) are ready and waiting to help you."
Catering
The corona crisis also has consequences for the catering at TU/e. This week staff who have been employed by the new caterer Appèl since July will hear whether they can stay on or will be losing their jobs. Smits says he understands that the caterer has been forced by the corona crisis to take these steps. "We are, of course, in discussion with them about how the reorganization is proceeding. But this is a private company with its own responsibility for its business operation. Nonetheless, the impact on those who have been working in catering for years here at TU/e will be huge, if they now hear that they can't stay on. We regret this, we are concerned about the situation and for the catering staff, but there is little more that we can do. A further consideration for us is the continued quality of the catering. This must be guaranteed."
For the efforts of the Central Crisis Team (CCT) at TU/e, Smits has words of praise. "Since back in February this team has been the heart of the organization when it comes to everything that is needed to get our university through this crisis in the best shape possible. I have a great deal of admiration for the iron discipline and the great professionalism that the people in and around this team bring to their work."
Smits draws the interview to a close with a remark that he made back in March at the start of the crisis, and that he feels still applies, "Let's hope for the best, but be prepared for the worst."