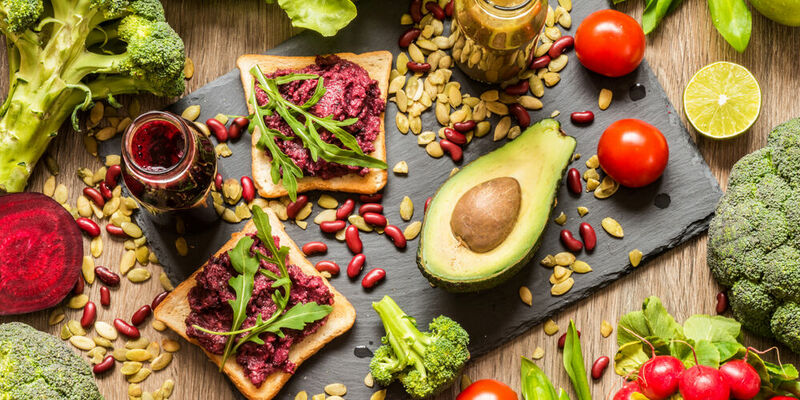 The University

,

Student

26/02/2020
Vegan student speaks up more often
More and more students want to go vegan or become vegetarians. They launch their own associations and want the canteens in applied sciences and research universities to expand their assortments. A vegan sandwich with grilled celeriac and fried onions was supposedly even an outright success at TU/e.
Groningen set the ball rolling last year, and vegan student associations have been springing up like mushrooms ever since. Nijmegen, Amsterdam, Rotterdam and recently Wageningen followed suit with their own vegan student associations (VSA).
Vegan diets are plant-based and exclude all animal products, which means that vegans don't eat meat, fish, dairy, honey or gelatin. It's not known how many vegans there are in the Netherlands.
Good atmosphere
At the time of its founding, VSA Wageningen only had three members, but today there is a WhatsApp group with more than sixty students. Board member Luc Roefs is surprised at how fast it went. "People are really enthusiastic about it."
They don't convene to lecture people who eat meat. "We don't even talk about that," Roefs says. "A good atmosphere is more important. We just want to bring people together and show them how good plant-based food can taste."
A vegan student can't just go out shopping on autopilot, Roefs knows. "It does take a bit more research. There are quite a few beer and coated nuts brands without animal products, but the information isn't always on the packaging. Fortunately, you can find out online."
There's mostly a lot of eating going on at the VSA, during vegan lunches, drinks and dinners. But the association also organizes movie nights, lectures and a visit to the national vegan exhibition VeggieWorld. Everyone is welcome, including students who eat meat.
Roefs, bachelor's student of Business- and Consumer Sciences, has seen the vegan assortment on the campus in Wageningen grow. "I see that caterers have picked this up."
Grilled celeriac
The increasing demand for vegan and vegetarian food isn't limited to Wageningen alone, Mark Huften of business caterer Vitam notices. He is responsible for catering at several educational institutions, including Erasmus University Rotterdam, TU/e, and University of Applied Sciences Utrecht.
"I see that students are a bit more aware of this than when I started at Vitam four years ago," Hufken says. "Sometimes you see that they are doubtful at first: Gosh, it's vegan, will it taste good?' Until they try it." A vegan sandwich with grilled celeriac and fried onions even became an outright success at TU/e, he says. "People come back for it."
It's quite a challenge to persuade students and staff members to eat healthy. "It can be helpful to present healthy alternatives in a slightly more attractive way, or not to put the snacks at the front of the food display," Hufken says. The assortment of meat snacks has become a bit smaller in recent years. "But old favorites such as the kroket and frikandel will still be available."
Petition
Sometimes students need to set things in motion first. The vegan assortment in Wageningen was expanded last year after a master's student initiated a petition. A vegan student at the University of Twente is now also asking for a better plant-based assortment in this way. "When I spend busy days on campus, I want to be able to choose a plant-based meal that's more nutritious than a banana, for example," he told university magazine U-Today yesterday. By now, over 450 people signed the petition in Twente.
Other institutions set the right example themselves. Leiden University has had plant-based products on offer in its restaurants and cafés since 2018 already, ranging from vegan kroketten to soy milk for coffee and tea. The Green Office of University of Applied Sciences Utrecht put Meatless Monday vlogs online last summer, with recipes for vegan falafels and a vegan tuna sandwich, among other things. And Radboud University wants to double the number of vegan and vegetarian meals in its restaurants on campus between now and 2025, from 40 to 80 percent.