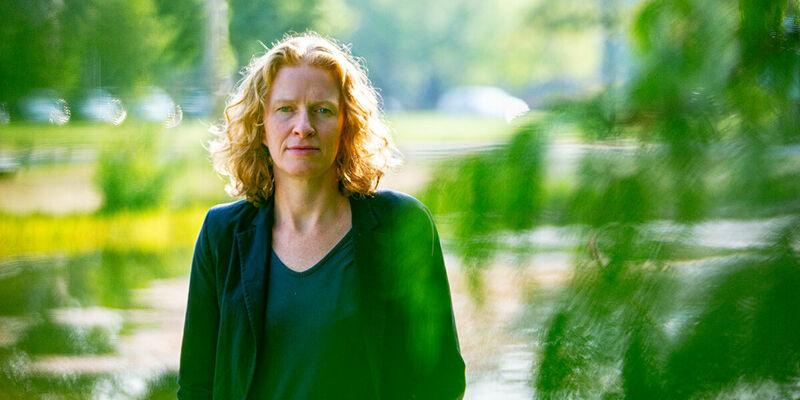 Education

,

Research

30/01/2020
Climate expert from Nijmegen switches over to TU/e
Climate scientist Heleen de Coninck, currently still affiliated with Radboud University Nijmegen, was one of the lead authors of the IPCC report about the impact of global temperature rise, which was published in 2018. De Coninck will join TU/e on April 1 as a professor at the Technology, Innovation & Society (TIS) group. She will remain active at Radboud University for one day a week.
Professor Floor Alkemade, De Coninck's (43) future colleague at the Technology, Innovation & Society (TIS) group, says she is "extremely happy" that the prominent climate scientist from Nijmegen will join TU/e. According to Alkemade, her new workplace can provide De Coninck's knowledge of the climate problem and its solutions with an extra impulse. "Here, we have much knowledge of innovation and transition processes, which is exactly what De Coninck says she misses to a certain extent at Radboud University."
As from April 1, De Coninck will immediately start supervising a PhD candidate at TIS, "which will allow her to get the new research line she'll be setting up, off to a flying start," Alkemande says. "She will investigate how all those technical innovations aimed at putting a halt on climate change, can be implemented as quickly and efficiently as possible – both in people's homes and in the business sector. The societal knowledge that is abundantly present at TIS will help her significantly with that."
IPCC report
Currently, De Coninck is one of the most prominent researchers at Radboud University. She was one of the lead authors of the much discussed IPSS report, which concluded that limiting global warming to 1.5°C requires far-reaching measures during the next twenty years. She addressed a crowd of tens of thousands of people during the climate march in Amsterdam in March of last year, and regularly voiced her opinion during the public debate on climate change. She was awarded the Hermesdorf prize by Radboud University for all this as recently as three weeks ago.
De Coninck, too, mentions the advantages of het switchover to Eindhoven. "I'll be working at a large department that deals with innovation and transition studies. For example, researchers there are focused on international technology transfer to developing countries, which is my field. I tried to set up something similar in Nijmegen, but I failed - my colleagues focus more on other fields. I was practically alone in that field and couldn't find the depth I'm looking for. I guess I need sparring partners. But it's very important to me that I can keep working in Nijmegen for one day a week. I have wonderful colleagues, and I completely support Radboud University's new strategy. The sustainability, obviously, but the multidisciplinarity as well. It seems foolish to leave now."
Horizon 2020
What kind of work will she continue to do in Nijmegen? "I will continue to be involved in the research at Radboud University. We were recently awarded funds from the European Horizon 2020 program, with which we will conduct research, together with three PhD candidates, into social aspects of CO2 capture and storage in a steel plant. Three assistant professors from two departments are involved with that project, so I won't take it with me to Eindhoven. And I'll also continue to supervise my current PhD candidates."
In addition to the above-mentioned research, De Coninck will also continue to act as co-director of the Radboud Centre for Sustainability Challenges – which aims to strengthen research and education in the field of sustainability at the university - for the time being. And she wants to create cohesion. "The people who work on this, need to get to know each other. I've been working on that for six years, helping to set that up."
De Coninck doesn't expect any changes as far as her activities for the IPCC are concerned. "I'm one of the authors of the chapter on technology transfer to developing countries in the new, large report. There is much expertise in this area in Eindhoven. At TU/e, there is much enthusiasm for my work for the IPCC as well. They give me time for that, by slightly reducing my teaching load. I give one speech a week on average about the previous report, and I often speak to the media. I will be given time for that as well. Hopefully, this will make everything a bit easier."
Hectic
She describes the past seven years at Radboud University as hectic. "I started there as a kind of program coordinator, and the research had to take place on the side. I didn't have one weekend off in the run-up to the approval of the ICPP report in 2018. Obviously, the university applauds that visibility, but it had a serious impact on my family. And on my colleagues, who had to take over the tasks I couldn't get around to. PhD candidates and students didn't receive feedback, or had to wait a long time for it. But I also blame myself for these things: I should have managed my time more effectively sometimes. It's in my nature to say 'yes' too often."
Did she factor her professorship at TU/e into her decision to come to Nijmegen? "It wasn't about that at all, but I wouldn't have applied if it had been another associate professor position. I'm ready for it. I'm practically the only IPCC lead author who isn't a professor. It never bothered me so far, but people tell me that it opens doors. And you get to supervise your own PhD candidates – that's another advantage."
Irène Curie Fellowship
According to Floor Alkemande, De Coninck's appointment does not fall under the Irène Curie Fellowship, the program that gives priority to women during a six-month period when filling vacancies, started by TU/e in July 2019. "But she does take part in it," Alkemande says. "The vacancy was open before July 1 of last year, and was therefore equally available to men and women. The fellowship is certainly attractive, thanks to a €100.000 starting budget, the opportunity to set up one's own research line, and participation in a special mentoring program."