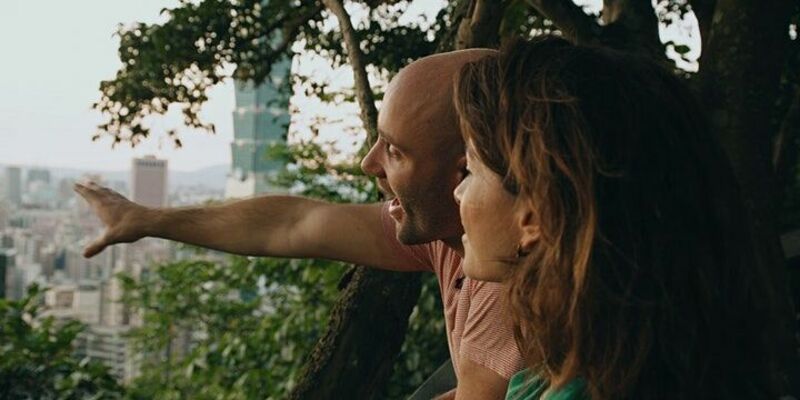 The University

,

Student

,

Campus

09/07/2020
"It only started after we crossed the finish line in Adelaide"
Yesterday evening, July 9, 'Driven by Challenges' had its premiere in a drive-in cinema on the TU/e campus. Liselotte Graas came up with the idea about a year ago and further developed it film maker Daan Willekens, after which they went to TU/e with the proposal to turn it into a documentary. In 'Driven by challenges,' Graas travels to several continents to ask former members of Solar Team Eindhoven 2015 how they have fared during the past five years. Graas: "It only started for us after we crossed the finish line in Adelaide."
In 2015, she still went by the name Liselotte Kockelkoren and worked as account manager at Solar Team Eindhoven (STE), which prolonged its world title for TU/e with Stella Lux during the World Solar Challenge in the South-Australian city of Adelaide. She currently works at Vanderlande, a company based in Veghel where she explores the potential of new, innovative techniques developed by the company.
The idea to visit her former team members at their current work places, "and to really show what it is they do there," came to her just over a year ago. Together with Daan Willekens, who had already made the much-praised documentary on Manus VR (a start-up with strong ties with TU/e) in 2017, she further developed the idea, after which they went to TU/e with the proposal to turn their idea into a documentary. "Just one month later I was on a plane, together with Daan and his regular cameraman Florian Koch," says Graas - the last name she currently goes by - with a smile.
Travelling to such places as Taipei, Boston, Manchester and Helmond – where they shot parts of their documentary – was "an amazing experience," she says. The conversations she had with her former team members were "enlightening because they showed what's possible and where you can end up worldwide after your graduation in Eindhoven. I want to show the people who watch my documentary – future students, but also Bachelor's students who can't decide what Master's program to choose – what some of my former team members are actually doing today. I'm also convinced that the experiences we've gained out there in the Australian outback have helped us during our searches for a career."
What would really be great, Graas says, is when someone came up to her ten years from now and told her that a certain decision he or she made, for a technical program or the decision to participate in a student team, was triggered by her documentary. She concludes, laughing, with her ultimate claim to fame: "Now I just need to wait to see if this gets me a mention on IMDb."
Maarten van den Dungen, who supervised the production from the Communication Expertise Center, says that this documentary doesn't just simply sing the praises of TU/e, but takes an objective position. "We happened to be looking for a story like this when Liselotte approached us. In 'Driven by Challenges,' our university's alumni tell their great stories themselves, in an honest and neutral way," Van den Dungen says. "That's what makes it such a strong story, I believe."
'Driven by Challenges' actually consists of six episodes, each lasting about fifteen minutes. However, during its premiere on TU/e's campus last night, July 9, the documentary was shown in its entirety. It can now be seen here.