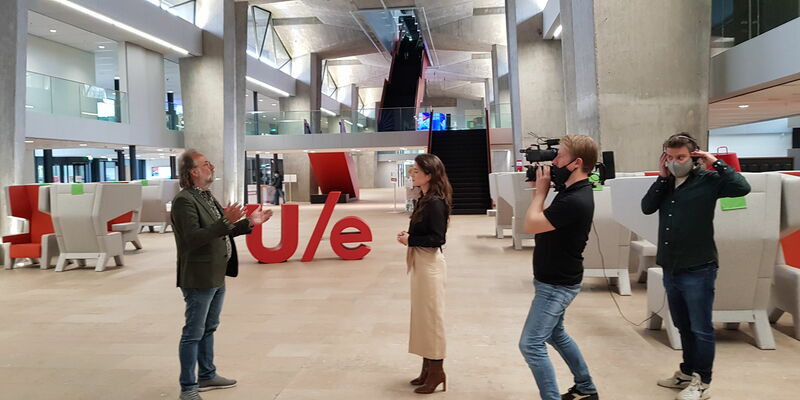 People

,

Research

06/05/2021
Second season 'Driven by Challenges' stays closer to home
The second season of the docuseries 'Driven by Challenges', that's being funded by TU/e, starts today. Presenter Liselotte Graas (28) will once again be looking for groundbreaking technologies which have been developed partially through the involvement of (former) students of TU/e. Last year she visited her former team members of Solar Team Eindhoven all around the world. This time she is staying closer to home.
The trips that Liselotte Graas made last year for the first season of 'Driven by Challenges' and which brought her to such places as Taipei, Boston, Manchester and Helmond, were defined by her as "an amazing experience." The conversations she had with her former team members of Solar Team Eindhoven, with whom she had won the World Solar Challenge in Australia in 2015, were "enlightening because they showed what's possible and where you can end up worldwide after your graduation in Eindhoven".
Today, May 6, the second season starts on the Youtube channel of TU/e. This season consists of five episodes. As a kind of appetizer, a trailer was presented on April 22. An artificial uterus that increases the chances of survival of extremely premature babies, an algorithm that can track down poachers to protect rainforests, or a robot brain that allows drones to fly autonomously through greenhouses. It will all pass in review. Graas, who is currently working on the episodes - only last week she was interviewing professor Maarten Steinbuch in Atlas (see the main photo) - was surprised several times by the unique technologies she is putting in the limelight.
"But technology is extremely broad," she explains. "I used to think that engineering was mainly about smart people working on statistics in a basement. Engineering had a dull and boring image. But if this series proves anything, it is that engineering is anything but dull and boring. It is about creative and cool solutions to global issues. It is extremely interesting to see which direction everyone will take during or after the TU/e."
Earth Day
It was no coincidence that the trailer of the docuseries was released on April 22, Earth Day. A day on which everyone thinks about the care we take for the earth. Many of the innovations in 'Driven by Challenges' make the earth a little better, for example in the field of sustainability. In the first episode for example, Graas visits the beer brewery of Swinkels Family Brewers (Bavaria) in Lieshout, where student team Solid has a world premiere; the team manages to generate energy in a CO₂-free and sustainable way by burning iron powder. And she visits Vertoro, a TU/e spin-off in Limburg that extracts liquid lignin from wood waste and uses it as a biofuel.
Because of the corona pandemic, filming has become a lot more challenging this year. Graas: "Yes, this year producer Daan Willekens, cameraman Florian Koch and I had to be very flexible. Fortunately, everyone is enthusiastic. We always find a way to film and at the same time stick to the corona rules. I'm glad we never filmed in the office, because that doesn't say much. We creatively searched for filming locations. Can't we go to a rain forest? Well, then we'll film in Burgers' Zoo."
Satisfied
Maarten van den Dungen, who once again supervised the production from within the Communication Expertise Center, says that he is satisfied with what the university gained from the first season. The six episodes of season one combined were viewed almost 22,700 times on YouTube so far. "We also showed the first episodes on a number of different channels, so all in all I think we've had about 30,000 viewers," Van den Dungen says. "I think that's a great result for a first year. The first series as well as the second one, which starts today, expressly don't deal with current events, which is why we can use these productions for a variety of purposes for at least the next five years. Such as for our recruitment activities."
Van den Dungen can't say at this moment whether there are plans for a third series. "That's something we decide after each season. It certainly shouldn't become repetitive; a new series needs to have an original approach." To the suggestion that a third series could cover the fight against the corona crisis from TU/e's perspective, Van den Dungen replies: "I'll write that down, but I'm not sure whether people will want to be confronted with that next year."
The first episode of the second season of 'Driven by Challenges' will appear on May 6, followed by a new episode every two weeks. A physical premiere like last year, when a drive-in cinema was organised on campus, is not an option this time. Graas: "That is a pity, but we will reach the general public online anyway, so I expect a large number of interested viewers, just like during the first season."