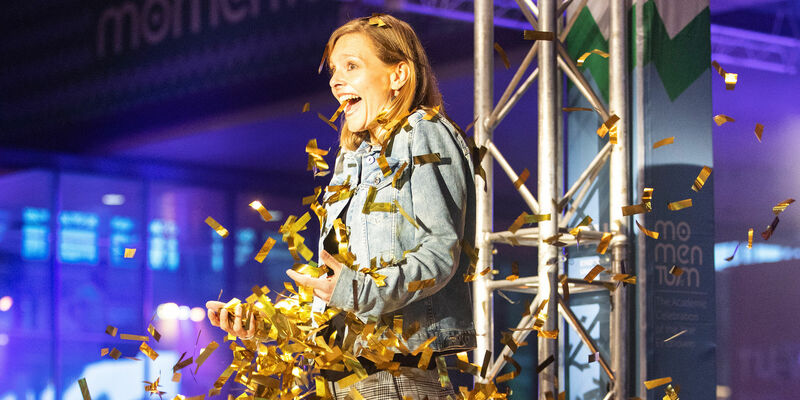 Johanna Höffken elected teacher of the year
The title of teacher of the year 2020 is awarded to Johanna Höffken, lecturer at Innovation Sciences (department of IE&IS). She received a scholarship of 25.000 euros during the online award ceremony. The election is an initiative of the ISO (Dutch National Student Association, or 'Interstedelijk Studenten Overleg). "I'm very happy that combining theory and practice is truly appreciated."
Johanna Höffken is assistant professor at Innovation Sciences and already won the best TU/e Bachelor teacher award last year. In an initial response, she says that she is "very happy" to receive the national title. "It's fantastic and also very important that it's about the substance. We are making a collaborative effort towards responsible innovations. I'm glad that the jury appreciates the way in which I combine my innovative teaching methods with the substance of the teaching material. Combining theory and practice, or 'reflection and action' – that is what drives me."
The jury praises Höffken for the innovative way in which she manages to connect theories with practice and for her sharp ideas about how to apply and experiment with concrete teaching methods. In addition, the substance and application of her work demonstrate Höffken's great intentions to make the world a little better, the jury says.
Reflaction
"I try to open up the closed academic community to the outside world. To achieve that, I collaborate with parties from industry, and I work with a concept I call 'reflaction.' This is a way to connect reflection (theory) and action (practice), because I believe that one can't do without the other," Höffken says.
Höffken works with ideas relating to challenge-based learning, connected learning and self-directed learning. "When I apply these methods, I give students control over their own learning process."
She does so in particular in her USE learning line Responsible innovation for the world, for which she would like to use the prize money. "To build prototypes, use extra student assistants, for travel to our contacts in that outside world, and certainly for my own professional development as well."
Honorary chair
Like most events, this year's award ceremony took place online due to the corona crisis. Minister Ingrid van Engelshoven addressed the finalists in a video. According to her, good and flexible teachers are indispensable, in this day and age especially. Rector Frank Baaijens also congratulates Höffken: "Your passion and enthusiasm is second to none when it comes to inspiring groups of students to get to work and solve problems in our society," he says in the video.
Höffken and the three other nominees will become members of the prestigious Comenius Network of top teachers in higher education. She will receive an 'honorary chair' on the board for one year. "I will find new inspiration there too," Höffken hopes. "I'm looking forward to dedicate myself to the opportunities that come with this acknowledgement."