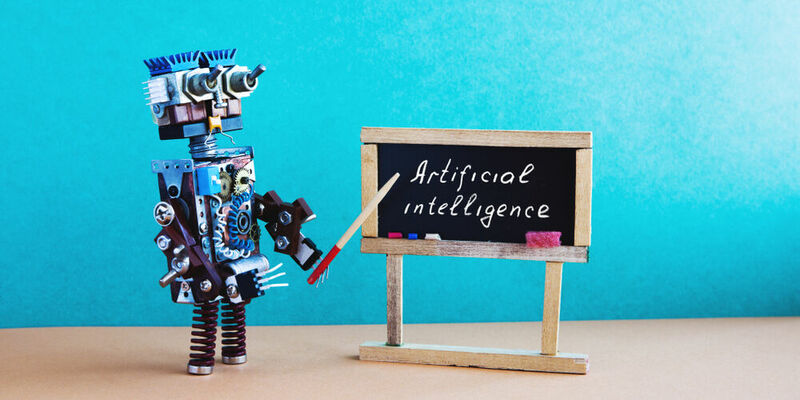 Education

,

Research

05/03/2020
Artificially intelligent education
If you want to prevent a smart computer from stealing your job, become a recreational therapist. If you want to do something with artificial intelligence, be sure to learn more about neuroscience. And was it such a good idea after all to implement Canvas? These and many other issues were addressed Wednesday afternoon during the symposium 'From blackboard to black box: education and learning in the age of AI.'
The symposium, organized by the Center for Humans & Technology and AI institute EAISI, kicked off with a lecture under the flag of Studium Generale. The speaker was Arlindo Oliveira, expert in the field of artificial intelligence (AI) and author of the book The Digital Mind, which deals with AI. The Portuguese professor provided the audience with a fascinating glimpse into various aspects of AI, and warned his listeners that we probably overestimate its influence in the short term, but that we underestimate the influence of AI in the long term – a logical consequence of the exponential development of artificial intelligence, according to him.
Oliveira also referred to a study that concluded that telemarketers, accountants and sales employees ('boring work') in particular have reason to fear that their jobs will be taken over by AI, whereas recreational therapists, dentists, athletics coaches (and engineers as well!) will be safe for some time. He advises people who want to acquire skills in the field of artificial intelligence to learn how the 'natural variant' comes about: study neuroscience and related fields, in short.
Canvas
After Oliveira's lecture was over, most of the students left the Blauwe Zaal, after which the symposium was resumed with a more select group of listeners. Researcher Bart Karstens of the Rathenau Institute shared his view on the possible ethical conflicts associated with the implementation of AI in education. He raised some salient questions about digital learning platform Canvas, which is used at TU/e as well. According to Karstens, sensitive student data is stored in Salt Lake City, and it seems only logical to assume that the American owners of Canvas want to profit from that data one way or another: private equity firm Thoma Bravo didn't buy Instructure, the company behind Canvas, for two billion dollars last year without reason.
The next speaker was Chris Snijders, professor of Sociology of Technology and Innovation at TU/e. He talked about his attempts to predict, based on data from that very same Canvas, which students will pass their exams with a little extra help. That turns out to be quite difficult, and unfortunately, Snijders says, it's virtually impossible to use the findings from one course for another course; the differences in character between courses is often too substantial for that to work. In addition, interaction with the digital learning system makes up just a small part of the overall learning process, he emphasized.
Diploma
What followed was a presentation by Anka Gajentaan of Randstad – mostly known in the Netherlands as a recruitment agency, but known worldwide as the number one global player in 'human resources.' She told the audience how Randstad is experimenting with artificial intelligence to gain insight into knowledge and skills of its clients.
Student Buster Franken, founder of student team Fruitpunch AI, had the last word. He argued in favor of 'challenge based' AI education, because he has learned from his own experience, and that of others, that this is the best way to learn meaningful things. Also, 'challenges' are a great way to show your potential. Franken referred to a quote from Elon Musk, who told the world via Twitter that people without a high school diploma are welcome to join Tesla's AI department as well, as long as they are good at programming. According to Franken, many other companies have a similar attitude, albeit to a slightly lesser extent perhaps. "A diploma isn't the most important criterium; when you're a Master on AI platform Kaggle, everyone wants you."