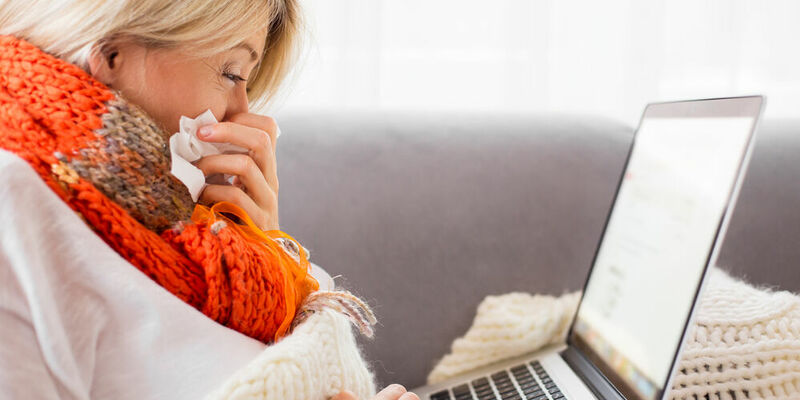 Corona

,

The University

,

Campus

09/03/2020
Consequences for TU/e of the advice to stay at home
Got a cold, a persistent cough or a fever? Then stay at home. All employees and students of TU/e received this advice by email on Saturday from university secretary Susanne van Weelden. With this step TU/e is following the strict advice issued by the Netherlands National Institute for Public Health and the Environment (RIVM) for the province of North Brabant. What impact will this advice have on education and research, and what will be noticeable to people on our campus?
---
Additions will be made to the following report.
This afternoon at 14.00 hours the team monitoring coronavirus at TU/e will meet; information about any additional steps the university may take regarding the virus will be released subsequently.
---
Monday morning, Patrick Groothuis, Director at Education and Student Affairs (ESA) cannot yet answer the question how many lecturers are absent today and how many courses have been canceled: "We're still taking stock." It is up to lecturers to decide how courses and interim tests can be caught up or taken at a later date.
According to Groothuis "fortunately, TU/e's management system and regulations provide for many of the situations now arising. As a matter of routine, the TU/e timetable offers the opportunity to catch up in week 8. Each lecturer will make their own decision whether the missed material can be caught up in week 8 or an alternative will be proposed."
While this is not an exam period, compulsory elements such as interim tests may be scheduled. "In that case, the lecturer will see how and when these can be caught up. This is the usual course of action when a lecturer is off sick." If students have to miss certain compulsory elements, they should notify their academic advisor of this in advance. "This too is an existing procedure and the regulations of the Examination Committees provide clarity on this point."
Career Expo
This coming Tuesday and Wednesday, the Auditorium and Atlas will be the venue of the annual Career Expo. Of the 180 companies keen to take this opportunity to enthuse students for a career with them, a small number have now canceled, says Boris Zwaan, president of the organizing foundation Recruitment Days ('Wervingsdagen'). One such company is ASML. On Monday evening the organizers will announce on their website which companies are pulling out.
"We understand their decision," says Zwaan, "but as yet there are no grounds for canceling this event. For more than two weeks we have been in constant communication with the team tracking coronavirus at TU/e and taking action based on RIVM advice. As yet no advice has been issued that gatherings like ours should be canceled. Likewise, in the Brabanthallen, a major event venue in Den Bosch, trade fairs and other events are going ahead as planned."'
Nonetheless, the organizers of Career Expo have already taken special measures. Zwaan says, "On Tuesday and Wednesday toilets will be cleaned more frequently, we have hand-disinfection posts already in place at all the entrances to the halls, and we understand if companies choose not to shake hands with visitors to their stand." Zwaan says that in his role as manager it was a challenge for him to keep his entire team motivated. In the event of any last-minute cancelation, he expects that TU/e won't leave Recruitment Days in the lurch financially. "Although the details of that would have be looked into. Fortunately it's not come to that yet."
Improvisation
The Office of Doctoral Presentations and Academic Ceremonies at TU/e, by contrast, has been exploring contingency options - although staff member Maartje Mulder does not expect it will be necessary to cancel PhD conferral ceremonies. However, some improvisation will be needed to make sure everything can go ahead as planned, she tells Cursor. For example, on Tuesday Hasini Garikapati is due to publicly defend her thesis. This is a bilateral doctoral study with the Universitat Politècnica de Catalunya (UPC). Neither the first nor and second supervisor at the Spanish university are able to attend the PhD ceremony. This will be resolved with the use of a video connection.
"This is a reasonably unique case," says Mulder. "Because it is a bilateral doctoral study, a first and second supervisor based at TU/e will be present." After the ceremony the certificate will be sent to Spain to be signed by the supervisors involved there.
The only condition for allowing a PhD ceremony to go ahead is that at least four persons with voting rights must be present at the ceremony. Only professors and associate professors have voting rights. On average the committee has seven or eight members. Mulder plans to look into how many PhD conferral ceremonies are likely to run into problems before the summer.
Catering
For the time being, campus caterer VITAM does not see the consequences of coronavirus posing any problems for its daily operations at TU/e. "All our employees are present today and all the canteens are open as usual," says Alex Dekkers, general manager at VITAM. According to Dekkers, his company is following the line set by RIVM and TU/e. "Our employees already know that if they have any flu or cold symptoms they should stay at home, that they have to inform myself and our HR department, and if necessary should consult their family doctor." If nonetheless a great many employees report sick, VITAM has a large pool of replacement workers it can call on in the region, Dekkers tells Cursor.
He adds that VITAM has always placed a strong emphasis on hygiene. "This is only to be expected if you are working with food and drink all day long. But of course, like everyone else we too are now paying added attention to hand washing."