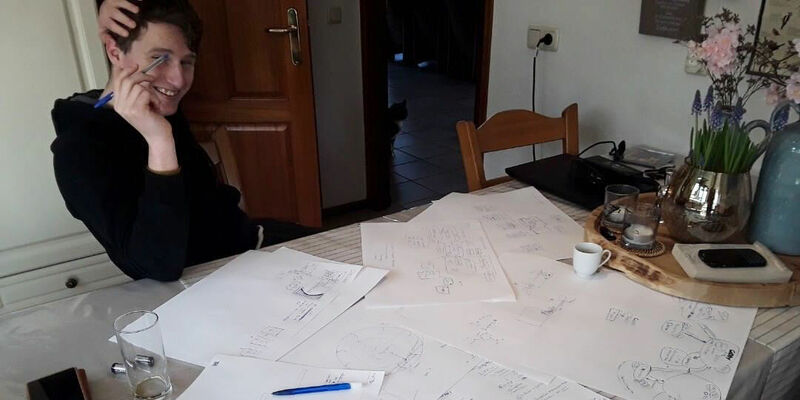 Corona

,

People

,

Student

16/03/2020
"Make sure you also get some vitamin D every now and then"
We have probably all worked from home once at some point, voluntarily or out of necessity. But how do you divide your day and sort your work or study load now that we collectively depend on our home for a longer period of time? How do you stay focused, how do you keep your team together, what are the tips, tricks and pitfalls? Cursor calls a 'fellow sufferer' every day. Today: chemistry student Dirk van Meer.
How do you manage a student team if you all of a sudden cannot meet each other on campus anymore? Dirk van Meer, captain of Team CORE, is currently in the middle of this. The TU/e student team aims at making it possible to recycle waste streams that cannot or can hardly be recycled.
His short-term agenda started to be really empty from this weekend, Van Meer says from his parents' house in Uden. "Suddenly it all went very quickly." Not that the developments really caught him by surprise: "The moment the spread of the coronavirus started to get worse fast in China, I already suspected that this would come here as well."
Last Tuesday, the team from the department of Chemical Engineering & Chemistry already received an urgent call to stop working in the laboratory CORE rents in Helix. Van Meer takes into account that this will certainly continue to be the case until the beginning of May: "Looking at the situation in China, I do not expect things to be back at full speed after April 6."
Until then, Van Meer says he will live day by day and will try to make the best of things, together with his teammates and partners involved. In any case, the planning had to be revised. "We had just started a new internal project for a possible restart of a factory in Drunen. To prove our technology and convince investors, certain experiments should be conducted in the near future. But that will be tricky now." The symposium that CORE would organize on May 28 together with Team Energy has also been canceled.
Good-morning meeting
According to Van Meer, this week is all about getting used to working from home. He has a small lead himself; because of the flu (no corona; the student was actually able to get himself tested rather quickly before the outbreak really started in the Netherlands), he has been on campus less recently anyway. "I have my laptop, that is the most important thing. I do miss a whiteboard, however, and being able to quickly tap another person on the shoulder, to ask a question or share an idea. As a team, we try to skype at least once per day and also within the innovation Space we have a "good-morning meeting" online every day to hear how everyone is doing."
Continue reading below the photo.
As a team captain, he also tries to pay extra attention to the internationals within CORE. "The Dutch are more likely to think: 'Okay, staying home for three weeks, I'll call my mother at some point." But internationals, especially now, are concerned about their families back home; they want to know how their family is doing and vice versa, but in most cases cannot go home now. That's why we try to speak to the internationals in our team individually every day, if only to show that there is someone they can talk to."
Overview
Maintaining focus is a point of attention when working from home, Van Meer notes. "Now that I cannot work according to the fixed schedule, I'm less productive. Not having lectures or guided self-studies also means that I don't easily think: "Well, let me start working on this or that subject." I now also take on other tasks and I have time to focus a bit more on making an overview. What have we done so far, what have we missed, what still needs to be done?"
Together with his father, as a coach involved with Team CORE, he made some drawings of a few ideas at the dining table. "Old fashioned, on paper, lacking a whiteboard." He laughs: "In fact, this is where CORE's future lies." He is very happy with his father as a sparring partner nearby, the student says. "If I didn't have someone here to chat with every now and then, I would slowly go crazy."
App conversations with friends and acquaintances are now inevitably mainly about corona developments. "What do you do against boredom, how long would this last, should I also hoard? Or: what should you do with medication? My brother, for example, has diabetes; do we have to stock up on insulin, how long can you preserve that?"
FIFA game
He also misses clubbing, "you cannot just go for a drink. The Brabander in me is now looking outside and would prefer to immediately go to a terrace." Fortunately, there are plenty of fun distractions online, "you can play a game of FIFA with anyone around the world." However, he especially wants to argue in favor of not just staying inside: "Also make sure to go outside every now and then and get some vitamin D."