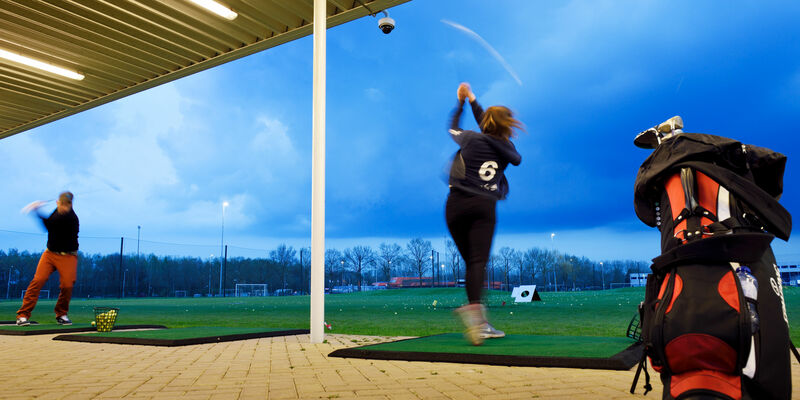 Corona

,

Sports

08/05/2020
SSC reopens for corona-safe outdoor sport
Outdoor sport for adults can start up again on Monday May 11, with social distancing. How do you go about this? The Student Sports Centre and the student sports associations are working on it. "The associations are champing at the bit to restart." Student golf association De Club has already submitted its plan.
Not all outdoor sports are alike. Some can take the adjustment in their stride - striking the ball at a safe distance from each other is second nature to golfers - for others it's all a bit trickier. Soccer and hockey can go ahead, but must restrict themselves to exercises that will keep players away from each other. Neither matches nor duels are allowed.
Wim Koch, director of the Student Sports Centre imagines that it shouldn't be hard to stick to, playing sport at one meter fifty, for athletics and outdoor sports. And tennis is also allowed, but no doubles. Rowing is allowed, in a single scull. Every association keen to resume training will have to ask permission following a detailed protocol.
Got to sign up
"All outdoor sports associations have been asked through ESSF how they think they can practice their sport responsibly in this new situation," says Koch. "In other words, adhering to RIVM guidelines on social distancing and restricted group size. The associations are champing at the bit to restart, so I don't think it will be long before we receive their requests for permission." This doesn't mean to say that everything will be back up and running on Monday. "We have to draw up a rotation schedule and ensure that we don't have too many groups at the same time. Indoors at the sports centre nothing is possible; there are no changing rooms and no catering. You have to wash your hands before you leave home and the toilets are not open."
Little by little, the sports centre will start offering outdoor group lessons for sports like bodypump aerobics and yoga, spread out between 9.00 and 22.30 hrs. Keep an eye on the website for details. By the way, turning up and joining in is a thing of the past; every participant must sign up in advance. "We have to avoid it getting too crowded."
Raring to go
Student golf association De Club has just submitted its plan of action Friday afternoon when Cursor calls. "It wasn't that difficult for us because everyone has their own sports equipment, we never share a ball, and we are already used to walking more than five meters apart. When we're on the green we'll have to be careful now. Before the crisis a flight of four persons was normal, but now we won't have more than two people playing a round together. On the driving range there's never any question of being close enough to someone that you could accidentally strike them with your club. Nonetheless, we are reducing our teeing-off places from twenty-four to eight," says Jeroen Maessen, president of De Club. "We're raring to go. We feel it is very important that this opportunity is handled well." But for our members this means that instead of turning up and playing whenever they want, they will have to stick to a pre-assigned time slot. "This will be based on a fair lottery system. A high or a low handicap, everyone is equal here. And everyone will have only an hour's lesson, instead of two."
Swimming pool
The associations that practice their sport indoors, like judo, volleyball and strength sports, must be patient a little while longer. All gyms will remain closed until September 1st. The director hopes that this date can be brought forward. "At the moment we aren't allowed to do anything indoors. A trainer can only go indoors to pick up a key that we have left for collection. People are keen to get back to doing their sports. Likewise, the residents of Luna and Aurora must feel it's about time they were allowed back in here."
The users of the swimming pool will also have to wait a while. Koch is keen to reopen the water as of May 18, but it remains a complex puzzle, he says. "We need to give this some serious thought. The need for changing rooms is an issue. And what happens to the virus in the water? We don't yet know. We are following the guidelines issued by RIVM. Swimming diploma lessons will only resume once we know more. We'd rather be well prepared than make a mistake at this stage."