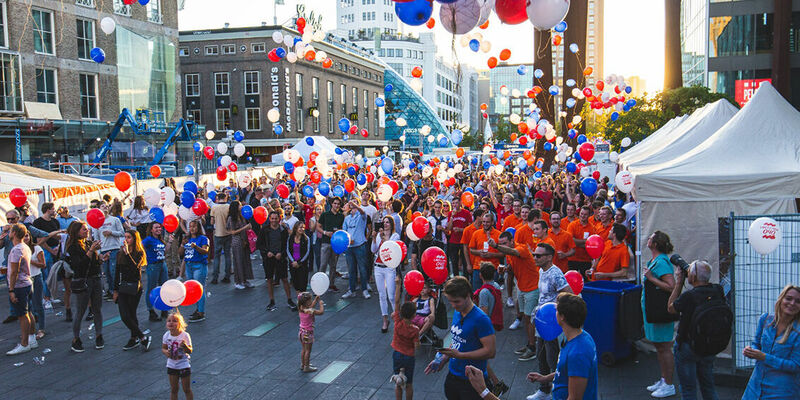 Festival Liberation 040 going ahead, with a new twist
Following weeks of suspense, the organizers of Liberation 040 have finally been granted permission by the municipality of Eindhoven to hold their corona-proof version of the liberation festival this coming Saturday. A large outdoor cafe/bar on the Stadhuisplein, and an information market on 18 Septemberplein have both been given the green light. "We must continue to appreciate how fortunate we are to enjoy freedom here in the Netherlands."
The municipality of Eindhoven left the students organizing this year's Liberation 040 in a prolonged state of suspense. The decision about the permit has been postponed several times in recent weeks, partly so that the festival Bier & Big (held on 4, 5, and 6 September at Sectie-C) could be evaluated.
President of Liberation 040 Clint van Rheenen is relieved: "We are very pleased that the permit has now been issued. As a team of eight, we have put in a year's hard work, and during the corona crisis, too, we have been doing our best to ensure Liberation 040 is both a great experience and safe. Our current plan is fully 'corona-proof' and we are pleased that the municipality thinks so too. We are really looking forward to welcoming Eindhoven's residents of all stripes on September 19th at a large outdoor cafe/bar on the Stadhuisplein and at the stalls run by our social partners on 18 Septemberplein!"
Third edition
Over the course of a year's preparation, the plans have changed more than once. When Clint van Rheenen, Anouk Dusseldorp and others climbed aboard as organizers, they thought they would be using the original design, as their predecessors (similarly all members of the Eindhoven Student Corps) had handed down to them.
This included a single very large stage set up on 18 Septemberplein, where all day long there would be things to do. Dusseldorp, the team member responsible for external contacts, explains, "There was a 'veterans' corner', furnished as a lounge of sorts, where visitors could easily strike up a conversation with the former servicemen and women. The informative element was provided by stands run by Unicef Student Team Eindhoven and Amnesty International. Added to this, all day long there were performances by bands and artists like Snelle and Gers Pardoel. Last year, the square was packed during the evening."
The third edition is taking place under very different circumstances. The plans were not immediately changed to take account of corona. "In April we still thought that the situation would have calmed down by September," says Dusseldorp. "After the press conference at which it was announced that events couldn't be held until September 1st we started meeting up to discuss ideas for a more realistic plan."
New twist
It would be a shame if the celebration of liberty and freedom were cancelled; if need be they'd create a very small-scale event. This was the students' thinking. But they dropped the idea of 'small scale' and Dusseldorp recalls how that happened. "As we started making new plans we got more and more enthusiastic, and one thing leads to another. Eventually, a permit was requested for two locations."
'The biggest 1m 50 outdoor cafe on the Stadhuisplein', declared the Dutch announcement made at the end of July, 'so we can celebrate our liberty'. "There will be bands too, but the artists we have chosen are crowd-pullers on a lesser scale than in previous years. Last year we had Snelle, but now we are giving less well-known bands a chance, which is great," says Dusseldorp. She herself is looking forward to Three Little Clouds and Waltzburg.