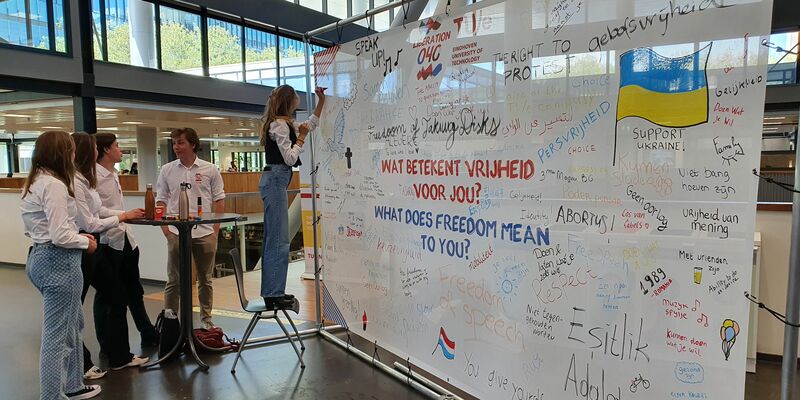 Campus

,

Student

04/05/2022
Freedom slogans in ten languages
Being yourself, 'Not being judged,' 'Hacer lo que te da la gana' (do what you enjoy, ed.). These are just a few of the slogans on the several meters long banner that was put up in the Markthal by students from Liberation040. This message of freedom in at least ten languages can also be seen during this year's liberation festival, which will take place on 17 September.
The students in charge of organizing liberation festival Liberation040 in September are also tasked with coming up with activities for the annual national remembrance days. Anna Kuijpers, student of Psychology & Technology and active at Liberation040, explains why it's important to keep remembering. "Eindhoven continues to develop as a multicultural student city, and in light of the current situation in Ukraine it's important to take a pause and think about freedom."
Those who attended today's lecture, which was co-organized by Liberation040 and Studium Generale, also thought about freedom. Donald Pagrach, born in 1946 and the son of Jewish people in hiding during WOII, told the audience that the war has greatly impacted his life. He wants to use his past as a mirror for the present. With the war in Ukraine and Europe's gravest security crisis in decades, this issue has become more topical for future generations than ever before, according to Studium Generale.
Anna Kuijpers mentions some of the other activities devised to keep the memory of war and its impact alive. "Two chimneys on Strijp-T will light up in red, white and blue today and tomorrow with a light artwork by Hugo Vrijdag. And we will take part in the official wreath laying ceremony at the general cemetery Oude Toren."
In six months' time
In the meantime, the students of Liberation040 are hard at work planning for the event on 17 September. "This year's theme is Speak Up, with which we want to let those who suffer from mental health issues, be it from a trauma or daily things like stress or peer pressure, experience a sense of freedom," Kuijpers says. "We hope to bring these kinds of issues more into the open this way. We also want to stress that it's good to show the world who you are, no matter what you believe in or what your sexual orientation is. Because not everyone could do that during World War II, and that's still even true for some people today."
Continue reading below the image
Together with War Child and foundation In Mijn Buurt, Liberation040 has launched an educational program for primary schoolchildren. It will also organize a DJ competition for young talent again, and the winner will get to perform during the Eindhoiven liberation festival. "There will be speakers, veterans and social partners, including UNICEF, Amnesty International and the Ministry of Defence, to talk about freedom with visitors. The entire city is welcome on 17 September on the 18 September square to enjoy live music and activities that are yet to be determined," Kuijpers promises. "The banner on which students will write down their message of freedom today will also be displayed there."