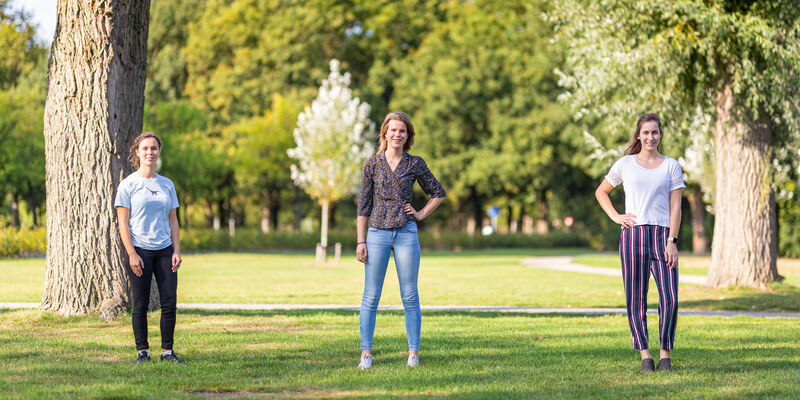 "It isn't difficult to be a vegan these days"
Eindhoven has a new, as yet unofficial student association to add to its tally: the Vegan Student Association Eindhoven, which is keen to build a community for students interested in a vegan lifestyle. On Tuesday September 22nd the club is holding its first event: a potluck dinner in the Philips de Jongh park.
Pretty much cold turkey, that's how Hilde van Esch (on the picture on the left) switched to a vegan lifestyle three years ago, inspired by her brother, who had seen a couple of documentaries "about what meat and other animal products do to your body, and about what the cattle industry is doing to the world." 'I'll give it a month' was the TU/e student's (third-year Bachelor's of Psychology & Technology) attitude, as she herself says. "I was simply curious. After three weeks of getting used to it and finding out what it involved, I thought, 'I can do this'. Before that I had always eaten meat, but when I reached that point I ditched all animal products in one fell swoop."
At first, her parents were skeptical, and some friends were even critical, Van Esch tells us, "but they also liked the idea. I have to say, I've never been very pushy about this, but I have always shown other people what I eat and what I do. And it interests people, I've noticed. I often hear, 'I don't know if I could do the whole caboodle'. But you can change small things. Start with one day, or just your breakfast. A friend who always starts the day with a bowl of yoghurt, for example, now opts for soya yoghurt."
Abundance
As Van Esch also points out, in the past three years alone "it's bizarre" how much has changed. "Really, veganism isn't something all that special any more. Nor is it difficult to be a vegan these days; there's an abundance of products on supermarket shelves." Similarly, in the campus canteens, for example, she says, vegans have more and more to choose from. "In a 'green' city like Wageningen, movements like these can often take off a bit faster, but I think TU/e's doing a pretty good job."
And perhaps this might further diminish any doubts among her fellow students: "When they think of vegan, people often think of expensive meat substitutes, but many of the cheapest items in the supermarket, like beans, pasta and vegetables, are also vegan."
For Van Esch this is an added bonus. "The main thing for me about a vegan lifestyle is that you are trying as best you can to prevent animal suffering." There are other aspects to this. For example, she thinks carefully about the clothes she wears. As she herself says, she has been making environmentally-aware clothing choices wherever she can for a long time now. "I don't need a completely new wardrobe every year, I buy a lot of items secondhand. Even so, I wouldn't like wearing something made of, say, suede. Not anymore. I'd feel bad."
VSA Eindhoven doesn't yet have an official status. "We are starting out in a way that makes it easy for people to join in, with a Facebook page that everyone can follow and a WhatsApp group for those who want to share their tips or experience, or who want to arrange to meet up." In its startup phase, the association is making grateful use of the knowledge and experience available at similar clubs already running in other student cities, and which the federation that supports these clubs also has to offer, Van Esch explains. However, the club does already have a board, with herself as secretary, Ilse van der Linden (in the picture in the middle) as president and Sanne Hijlkema (on the right) as the person responsible for activities.
Friendship group
Over the next six months, says the student, recruitment will be a priority; the association aims to attract not only students in higher education but also those in secondary vocational education. "It would be great if in six months' time we had twenty, twenty-five members." With this basis, VSA Eindhoven hopes to create an enthusiastic community of Eindhoven-based student (wannabe) vegans, "a big friendship group, as it were, of people who are interested in a vegan lifestyle." Internationals are welcome too, of course, Van Esch emphasizes; the main language used at VSA Eindhoven is English.
On Tuesday September 22nd, from 17.00 hrs onwards, the association is holding its first activity, a potluck dinner in the Philips de Jongh park and everyone is welcome. The idea is that each participant makes something to eat and brings it along to share. The event will be set up to be corona-proof, "this is partly why we've chosen to be outdoors. At the moment, at least, the weather predictions are good." You can sign up by changing your status to 'present' on Facebook.