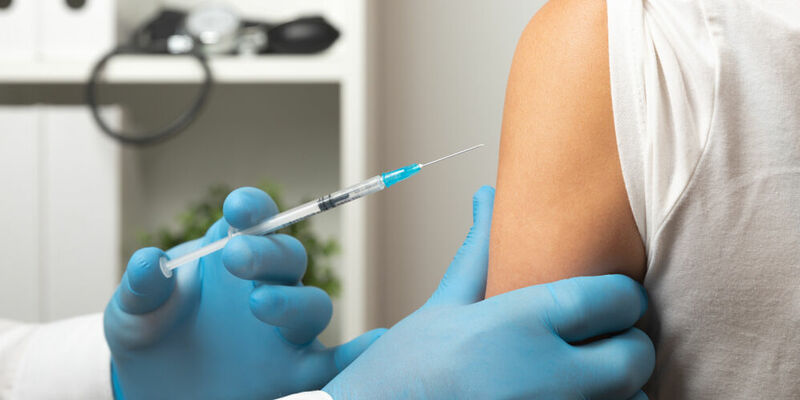 Corona

,

Research

22/04/2021
"Upper arm will once again become the vaccination bottleneck"
The number of available vaccines is currently once again the limiting factor for the vaccination campaign. That's good news, says TU/e student Sjors Melman, who is part of a logistic advisory team headed by professor Jan Fransoo. Now, it's important to prevent delays from occurring when scheduling appointments as the number of delivered vaccines increases rapidly in the coming months. As far as the researchers are concerned, a digital system with push messages will be set up as quickly as possible to tackle this issue.
The vaccination puzzle contains three elements, Sjors Melman explains. "Simply put: the jabber, the vaccine and the upper arm. You need to bring them together as efficiently as possible. When the logistics are in order, the number of vaccines should always be the bottleneck." That's currently the case, he says. "But back in January, the number of jabbers was the main problem, and a few weeks ago it was scheduling the appointments: the upper arm, in other words."
Because around Easter weekend, it turned out that there was room in the schedule for some of the seventy-year-olds to get vaccinated, even though this group still hadn't received the paper invitation in the mail. In addition, thousands of appointments had to be cancelled and rescheduled at the last minute when the decision was made to reserve the AstraZeneca vaccine for people over sixty.
"What you saw then was that the system responds too slowly to the availability of vaccines. That's why we call for a system of preregistration that allows people to indicate in advance that they want to get vaccinated, after which an appointment is sent to them on their cellphones via a push message as soon as the vaccine becomes available." This is comparable to how they currently jab people in Belgium with leftover vaccines, he says. "It's true that you can organize it locally and last-minute, but this system should also be applied for the regular vaccination appointments, we believe. You might invite entire groups a few weeks in advance."
Willingness to vaccinate
Melman says that the 'upper arm' will once again become the critical factor now that we're entering a new phase of the vaccination campaign, in which younger people who don't work in the healthcare sector will also soon become eligible for a vaccine. "This group has a busier lifestyle and is at a lower risk of the virus, which is why we need to prevent that the willingness to vaccinate decreases as a result of the logistical side. Therefore, we need to make it easier for people to make an appointment; we hear that people are now put on hold for hours when they phone the GGD. That has to change, and it can change."
Even though the GGD doesn't seem to recognize the need for an efficient system for scheduling vaccination appointments, Melman says, the team is however still in contact with representatives of the RIVM and the Ministry of Health. "We work together with volunteers from ASML, Vrije Universiteit Amsterdam, and bol.com to see how you can set up such an appointment system in a user-friendly way, but it's really not a matter of advanced mathematics."
Waiting for the upper arm
Melman is satisfied with the way in which the implementing agencies took up the team's advices on that other logistical element: the 'jabbers.' "We proposed to separate the administrative process from the actual jabbers at the vaccination location whenever possible, so that they can make optimal use of their time." Because last winter, the jabbers still spent a considerable part of their time waiting for the 'upper arm,' he says. "The GGD vaccination locations now have one waiting queue that leads to several desks where an ID and health check is carried out, after which you go to the first available jab booth."
As a result of this new setup, it's the people on the administrative staff, who are available in comparatively high numbers, who sit around twiddling their thumbs during quiet moments, instead of the scarce, medically trained jabbers. "This way, we've managed to speed up the rate at which vaccines are administrated from twenty to sixty vaccines per jabber per hour."
Stress test
The advisory team's models for the stock management of vaccines were positively received as well, Melman says. "You see that almost all the doses of delivered vaccines are now being administrated in the course of the week. And minister De Jonge has said that the number of doses can reach two and a half million a week. We still have a long way to go, but you see that the deliveries are growing exponentially."
That is why he has much hope for the coming months. "We sat down with several organizations simultaneously; the ministry, RIVM, local and national GGD, general practitioners and hospitals. Because so many parties are involved, things go slower than you would want. On the other hand, the involvement of both the GGDs and the general practitioners and hospitals in vaccine administration does lead to the spreading of risks and customized solutions for vulnerable patients. The upscaling in the coming months will be the true stress test for the vaccination campaign."