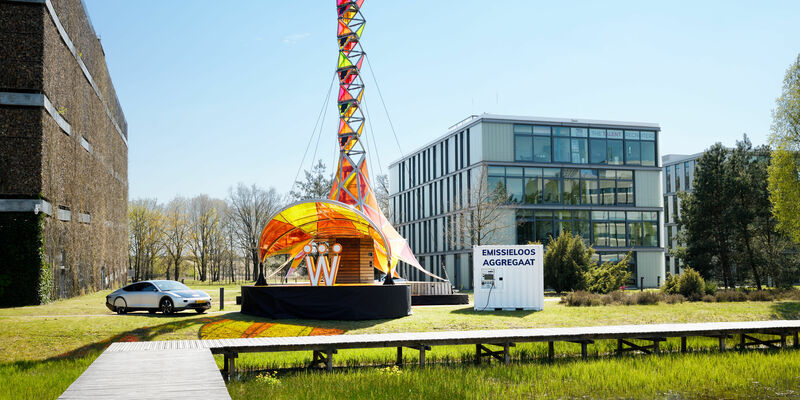 The University

28/04/2021
Lightyear, GEM-Stage and DENS present themselves to the king
This year's edition of King's Day on the High Tech Campus in Eindhoven saw the presence of no fewer than three organizations that started at TU/e: Lightyear, GEM-Stage and DENS. The shared mission of these three start-ups is to make clean mobility and clean energy available to everyone.
"A great opportunity to familiarize a wide audience with these high-tech companies, at a historical site where so many inventions took place in the past," says associate professor of Structural Design Faas Moonen, who was involved in the Green Energy Mill project from the very beginning. "It's also great for us as TU/e to see our former students experience such major developments. All phases from idea to invention within a student team, to start-up and progress towards production with a commercial product."
Queen Maxima got to drive a Lightyear on the Strip of the HTC, flanked by two princesses. The company, which has its origins in student team Solar Team Eindhoven, develops the world's first commercial long-range solar car: Lightyear One. The makers claim that this electric 5-seater will be Europe's most energy-efficient and sustainable car (from production to end-of-life) with a range per battery charge of725 kilometers. The first models will be delivered at the end of 2021.
Continue reading below the photo.
The Green Energy Mill has transformed into GEM-Stage after two years of testing and travelling. It was brought into use for the first time during King's Day 2021. The GEM-Stage generates electricity though the wind turbine's wind energy, through solar energy from its panels and through solar cells in the colored fabric. As of now, hydrogen will be added to this, in collaboration with DENS (see below). The latter addition ensures that the GEM-Stage will produce enough energy under any weather circumstance to provide a complete live show with sustainable energy.
With the addition of a podium and a hydrogen aggregate, the GEM-Stage will provide musical acts at festivals and events with one hundred percent green energy in the future. The GEM-Stage will travel to several European countries this summer.
Reserve power
The third start-up to present its product to the royal family was DENS, which develops the first commercial hydrozine (formic acid) power generator. The generator contains a reformer that converts hydrazine into a hydrogen gas, which is subsequently converted into electrical energy in a fuel cell. Since hydrozine is neither explosive nor flammable, it offers a safe and user-friendly solution for the use of hydrogen during festivals and events, DENS says. The company also wants to work towards an emission-free construction site. Their sustainable energy makes it possible to build with electrified equipment on a large scale and to charge these electrified machines in a sustainable manner, so that a grid connection will no longer be necessary on a construction site. This could become a solution for the nitrogen crisis and climate change.
DENS' generator proved its usefulness during this King's Day by charging the Lightyear.