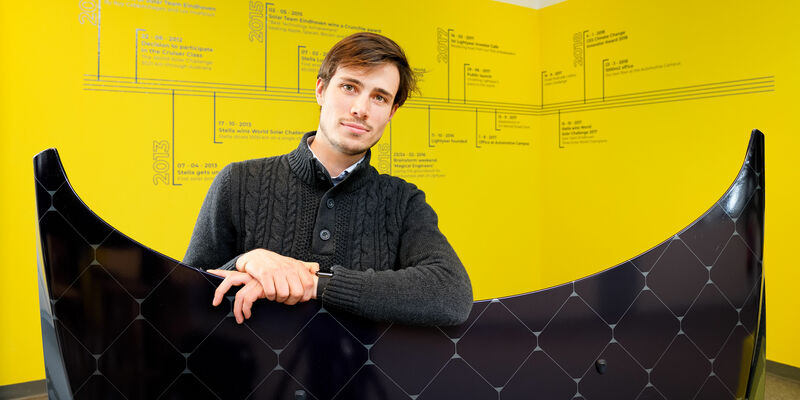 People

,

Student

25/01/2023
Is the Lightyear dream held by Lex Hoefsloot falling apart?
In recent weeks the very opposite seemed true, that TU/e alumnus Lex Hoefsloot was, in fact, realizing his dream; in the Finnish town of Uusikaupunki the production of Lightyear 0 was underway and various leasing companies had placed healthy orders for its successor, Lightyear 2. Yesterday, Atlas Technologies BV, which owns Lightyear 0, filed for a suspension of payment. Is the dream now definitely over?
TU/e professor Maarten Steinbuch, who recently put his name down for a Lightyear 2, let it be known that he hopes the team will stay together. In the national press, today's de Volkskrant, he says that the big risk now is "that their good people [will] leave". The problems Lightyear appears to have run up against at the present time Steinbuch attributes to "difficult circumstances". They stem from various factors, including high interest rates and supply issues, in particular in relation to batteries and computer chips. Significantly, according to Website Automotive, the Helmond-based company had a high burn rate: of the nearly 200 million euros invested, ten million euros was being spent each month.
Five years ago, bursting with pride and enthusiasm, TU/e alumnus Lex Hoefsloot, team manager in 2013 of the very first Solar Team Eindhoven to represent TU/e in the World Solar Challenge in Australia, told Cursor about the opening of the factory in Helmond, where Lightyear was starting up with a team of forty people. Less than a year ago, Hoefsloot participated in College Tour, filmed in the Evoluon, in which he told presenter Twan Huys how Lightyear had continued to develop in the intervening years and that he now knew that it was relatively easy to build a prototype.
"It's ten times more difficult to start a production line," he admitted back then. But that became another hurdle the team appeared to have cleared. In Finland in late November, the production of Lightyear 0 got underway, but the car was proving much more expensive than was originally budgeted. It wasn't going to cost not 125,000 euros, but double that, a quarter of a million. A more affordable version was invented, the Lightyear 2, which would sell for 40,000 euros. All efforts are now focused on completing its development and getting its production up and running as quickly as possible. On the Lightyear website, orders for this version are still being taken.
Carlo van de Weijer likewise hopes to see a way forward for Hoefsloot and his team. Van de Weijer is now the TU/e director of the EASIS AI institute and has long been an advisor to Lightyear. In de Volkskrant he says: "I had a hundred reasons why it wouldn't work and they've checked off 92 of them. I hope they'll prove me wrong with the other eight. I wouldn't be surprised."
Solar Team Eindhoven
Bob van Ginkel, technical manager of the present Solar Team Eindhoven, says that Lightyear's contact with his team is "friendly". "As it was with all the past solar teams." After graduating, many students who were once part of an STE have gone on to join Lightyear.
Van Ginkel says that for "understandable reasons" he can't respond in any detail to questions relating to the difficult situation Lightyear now finds itself in. "But of course we recognize the huge complexity that goes hand in hand with processes of this nature in this sector. There's certainly every confidence in our present team that Lightyear 2 will become a success."
Within the present team is there also some disappointment that the company in Helmond may be lost as a potential employer? "No," replies Van Ginkel, "because the primary motivation for joining STE is the desire to build a cool solar vehicle, not the thought that at some future date you may be able to work for Lightyear. Although, naturally, the cutting-edge technology they employ there does make it very appealing."
On March 1st, the present solar team will announce where they'll be investing their efforts this year. "It'll be a great project," says Van Ginkel, "and we hope to deliver it early, in the summer vacation."