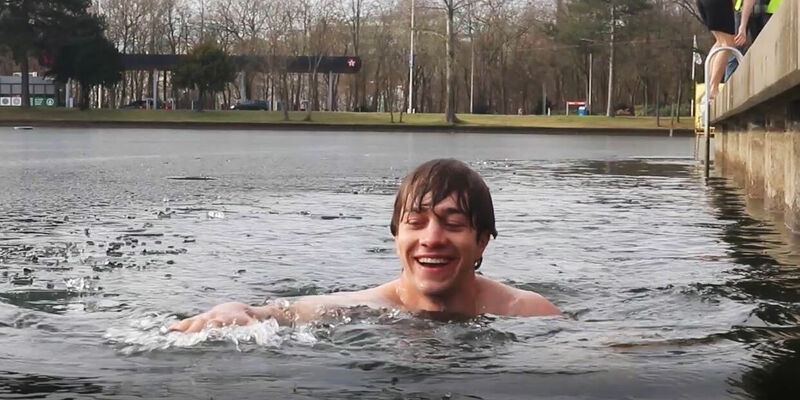 Sports

,

Student

23/02/2021
Warm glow at thought of an ice cold dip?
It was such a warm winter's day, this past Sunday might have found you hovering near a smoking barbecue, while only a week ago so many of us were skating across the ice. Somewhere in the intervening week, a group of TU/e people took a bracing dip amidst the clinking of broken ice in the aptly named IJzeren Man - the Iron Man lake. The ice swim is a first, not only for them, but also for the upcoming TU/e Vitality Week, starting March 8th.
Be sure not to take the word 'dip' literally, by the way. There's nothing quick about ice or winter swimming; it requires method and preparation, including a thorough warm up and deep breathing. Then the rule is this: feet first and take it slowly. "The deeper you go into the water, the more important that deep breathing becomes," says Lara Hofstra, student diversity officer at TU/e, who is coaching the ice swimmers. "It is a pretty intense experience."
Intense but, above all, good for a person's health, as others, including 'The Iceman' Wim Hof, have argued for years (read more here about his visit to TU/e in 2012 and about an earlier Iceman workshop given by Studium Generale). Whether our debutant winter swimmers in the IJzeren Man ended up sharing this opinion, you can see in the video report below made by our reporter Niels Dusseldorp.
Do you too get a warm glow at the thought of an ice cold dip? If so, you can still sign up this week for one of the ice swimming sessions on offer during the upcoming (partly online) TU/e Vitality Week. The week, which runs from March 8 through 12, has been organized by the Student Sports Centre and others. Click here for all the information.