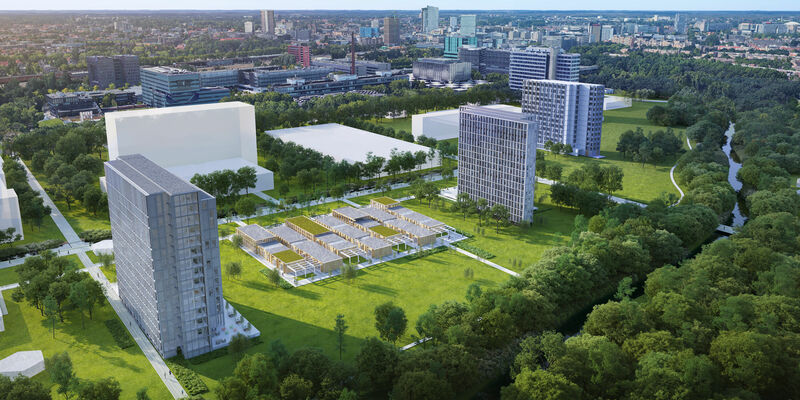 Student

,

Campus

05/01/2021
Heijmans will build two new residential towers
Building company Heijmans, together with housing corporation Woonbedrijf and the architectural firm VenhoevenCS from Amsterdam, has won the tender for the construction and management of 735 student homes on the grounds of TU/e. Heijmans will achieve a turnover of 60 million euros with this project. Commissioning party Woonbedrijf, owner of the residential complex, will be putting a total of 80 million euros in it. The first partial delivery of the project is scheduled for the start of the 2023-2024 academic year.
Vice-chairman Nicole Ummelen is pleased to announce that the TU/e is partnering with Woonbedrijf and Heijmans on this project. Ummelen: "They took the welfare of the future residents as the starting point. This translates into affordable accommodation of good quality and a range of facilities that will suit the target group well. Their plan, with a focus on community building and residents' initiatives, fits perfectly with our ambitions for the further development of the university campus."
The coming years Heijmans will build two residential tower blocks with 653 student homes. The space between the tower blocks will be used to house the (low-rise) social heart of the project, and will include 82 student homes, a shop, a creative space and spaces to be filled in consultation with students. The low-rise residences will have two floors, each with private kitchen and bathroom, and a roof terrace. The design is based on the Olympic village of the 1972 Munich games. The tower blocks and low-rise housing will be erected on the spot where the Paviljoen, the former building of the department of Industrial Engineering & Innovation Sciences, once stood.
Aurora
Vestide, the Woonbedrijf housing corporation's student accommodation division, will be responsible for renting out and managing the homes for a period of 50 years. Vestide is already doing the management of Aurora, the existing residential tower with 300 units that is operational since September 2016.
With the construction of additional housing for students on the campus, the university is also responding to the urgent call from the Eindhoven city council to take responsibility for student accommodation. This project should contribute to reducing the pressure on the Eindhoven rental market.
In the coming months, the parties involved will develop the project plans in more detail. They will do this with input from TU/e students, according to the press release.