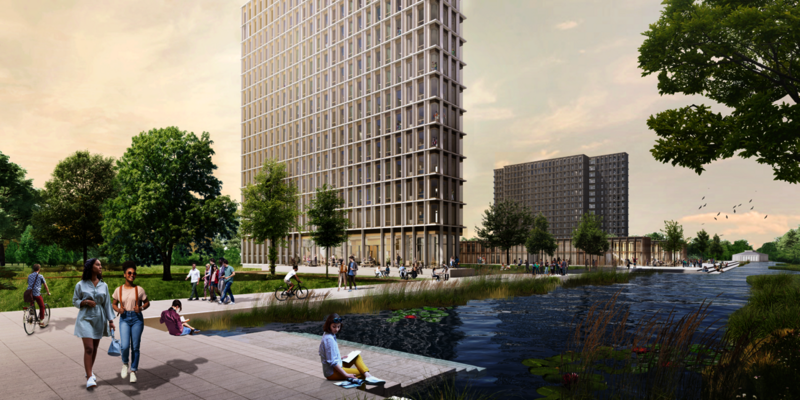 Campus

,

Student

07/09/2022
Building of new student residential towers starts in November
Vestide, part of Woonbedrijf, plans to build 735 student homes on the TU/e campus. Construction starts in November. Although not a single pile has been sunk, Vestide is making a start with building the student community. They have already been asked what they anticipate needing their future housing to provide. Now this issue is being explored more extensively under the name LOT.
The plan (designed by architects VenhoevenCS) comprises two residential towers and a student village. The tower on the west side will house 278 student homes, the east tower consists of 371 student homes. Each tower is approximately 50 meters tall (16 stories). Situated between the two towers will be the 'student village', with its 86 homes, spread over five short streets. These two-story buildings are earmarked for group living and communal student facilities. The homes, to be built by Heijmans, will occupy the site where the Paviljoen once stood, TU/e's first building, dating from 1956.
Marieke Franken, Woonbedrijf director, is convinced of the importance of involving students early on: "Students know better than anyone else what comfortable living on the campus requires. And so LOT is asking TU/e students to share their thoughts, asking them to participate, to become involved in the decision-making about new building on the campus. LOT is putting students in the driving seat when it comes to decisions about their homes and the surroundings in which they live. And this will make living on campus even more appealing to future students."
More information
Would you like to find out more about the building work, or to join the community discussion? A walk-in meeting will be held in Aurora (one of the current residential towers) on Tuesday September 13, from 16.00 hrs to 18.00 hrs. This is a looping presentation lasting 15 minutes. Anyone interested in attending, or wishing to receive the newsletter, can sign up via the LOT website at www.lotcommunity.nl. Having signed up, you'll receive the updates and invitations to attend meetings.