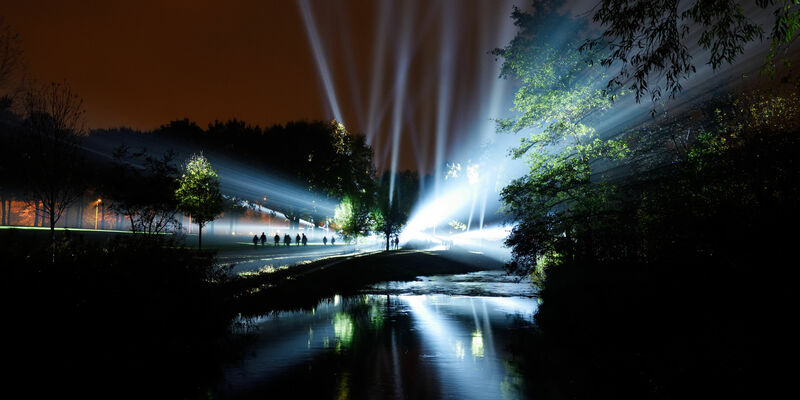 The University

,

Campus

11/01/2021
The campus as a canvas for GLOW
For the third time in ten years, the route of light art festival GLOW will run across the TU/e grounds at the end of this year. But how do you provide visitors of GLOW with the experience of entering the beating heart of innovation, education and research? That is the challenge placed before the GLOW work group at TU/e, which is on the lookout for creative minds and helping hands to give shape to the campus route.
Whether they be designers or programmers, students or employees, concept thinkers or practical down-to-earth pragmatists, anyone who has an affinity with TU/e and GLOW is invited to share their ideas and to contact the work group, Tim de Jong says. The Bachelor's student of Applied Physics is a member of the work group and chair of student team IGNITE, which is preparing for the upcoming edition of GLOW as well. "My Bachelor's final project lies on the interface between physics and interactive light, I've discussed that with many people. That's probably how I ended up on this work group's radar."
The core team has the task of shaping GLOW 2021 on the TU/e grounds and of coming up with a plan for this as quickly as possible. In doing so, the team members need to keep the 65-year-old university's anniversary theme 'Heroes like you' and the new GLOW theme 'Time' in the back of their minds - not that they feel constrained in any way by these factors, De Jong says: "Apart from themes and budgets, we have complete creative freedom anyway." The work group already has a number of ideas in place, which were the result of, among other things, a brainstorm session that included an extensive evening walk across the campus. "Which places are interesting, where can we find good perspectives?" In other words: "How can we use the campus as a canvas for GLOW?"
Read on below the photo.
But creative, technical and practical contributions by others are more than welcome, or sorely needed in fact - in the form of ideas, a healthy lust for research or programming skills, as well as in the form of practical helping hands to build the envisaged art installations later in the year with. "Our organization tries to find a place for anyone who is interested."
Application
One way to help is through extracurricular work, De Jong says, but sometimes also through a study project, such as his own Bachelor's final project. "I'm convinced that many students, just like myself, feel that they're missing out on application and creativity, especially during this crisis. And that they have a bit more time now for a project like this one, for example because a traineeship abroad is postponed due to corona."
The corona crisis - it will continue to be a rather unpredictable factor this year too, says physics student De Jong, who starts with his premaster at Industrial Design next month. The most recent edition of GLOW was cancelled in early October, even though the organization caused a surprise by presenting an enormous spectacle of light in and above the city only one month later. "We need to take corona into account, but we naturally hope for a physical edition of the festival, in whatever shape."
GLOW 2021 will take place between 6 and 13 November. Do you have ideas on how to contribute to the TU/e route? Don't hesitate for a moment and contact the workgroup via this mail address.