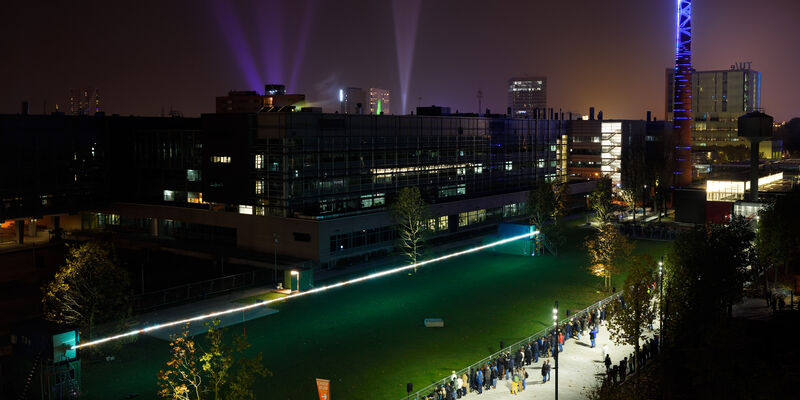 Faltering Tesla Coil only hitch at GLOW's opening
After having to pull out all the stops just before GLOW got underway, TU/e can finally look back on a successful opening weekend. The Tesla Coil, one of the public favorites at GLOW five years ago, was put out of action by computer failure on Saturday evening, but once the necessary changes were made it was back up and running on Sunday. With another lightning installation, Exploding Wire, TU/e set a new record: for the longest artificially created lightning bolt.
The Tesla Coil, which was given a spot in the pond outside the Zwarte Doos, caused something of a headache this past weekend. This was due in part to the late delivery of "a number of things" by external suppliers. As a result, the show created around the lightning installation could only be fully tested for the first time on Friday evening. "We had to rely on quite a bit of last-minute improvisation, and that meant we couldn't do as robust a job as we would have liked," said Gerrit Kroesen, coordinator of GLOW Science on the TU/e campus.
Having faltered a number of times earlier in the evening, the lightning installation finally gave up the ghost at about nine thirty on Saturday evening due to various computer failures. The heart of the problem lay, reported Kroesen, in the cabling. This disrupted the Tesla Coil's performance to such an extent that the computer went berserk. For the rest of the evening the show on the pond had to be canceled.
On Sunday morning all the cabling between the control panels and the Tesla Coil was replaced with fiber optic cables. This, says, Kroesen, resolves the problem for good. On Sunday evening the installation was again running smoothly, as were the other ten 'light art' projects on the campus.
Lightning record
With Exploding Wire, the exhibit that creates a lightning bolt every ten to fifteen minutes on the lawn in front of Flux, TU/e set a new record on Saturday evening: for the longest artificially created lightning bolt. It achieved a length of eighty meters.
How many visitors GLOW drew to the campus this weekend, Kroesen cannot say. Nor does the TU/e fire service have any figures to hand. Both parties are sticking to the figures provided by the GLOW organization, which to date has announced only that the event held in the city on Saturday evening attracted some 95,000 visitors.