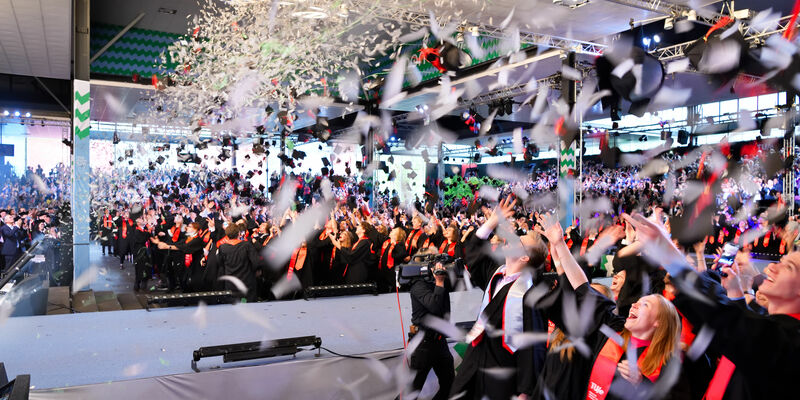 Corona

,

Student

02/07/2021
The organizers are expecting the total number of students attending this year's MomenTUm to exceed 2500, relates organizer Liesbeth Castelijns. This year's event will be held on Friday 15 and Saturday 16 October, and will comprise three ceremonies. These are grouped not by graduation year but by department. Each ceremony will bring together three departments.
The first ceremony is on the Friday afternoon, the second on Saturday morning and the third on Saturday afternoon. "From conversations with students we realized that this is also what they would prefer," Castelijns explains. "It avoids having a 'B version' for students who didn't have a classic MomenTUm last year." While they were able to attend an online version, no one is suggesting this is the same thing. But one element from that online version is being retained: MomenTUm for You. This is a series inspired by the TV show All You Need Is Love in which you can put forward your friend/fellow student/sister/brother/child for a surprise delivered to their doorstep, as a way of expressing how proud you are of them. "That was such a hit that we are doing it again this year," Castelijns says.
Let's party first
As well as the classical ceremony on the red carpet, we'll see the return of the honorary doctorates – three; one at each ceremony - the best teacher awards and the throwing of the hats. This year as he opens MomenTUm Robert-Jan Smits will not be alone but accompanied by FSE president Mayke Scheffer. And in another change from previous years, the voice-over will be replaced by a presenter. Also, as well as a DJ – no name yet announced - student orchestra Quadrivium will play. The student party, a regular fixture on the Friday evening, will this year take place on the evening of Thursday October 14. "Thursday evening is more of a student evening, but there's also another reason: on the evening of Friday October 15, Dutch Design Week is scheduled to open on our campus. Then, Saturday evening October 16 is the date of the employees' party celebrating the lustrum," Castelijns says.
All or nothing
Bachelor's students who are eligible to participate in MomenTUm 2021 will receive an invitation after the summer vacation, and to attend they must officially sign up. Students who graduated in 2021 will receive their diploma in October, students who graduated in 2020 have already received their diploma.
The seating for the anticipated 2500 participants can hardly be expected to be comply with 1m50 distancing. "We are assuming a scenario in which the 1m50 society is behind us, otherwise the event cannot go ahead as currently planned," Castelijns says. "The steering group has said that it is all or nothing: if corona again becomes problematic, the party will be postponed."