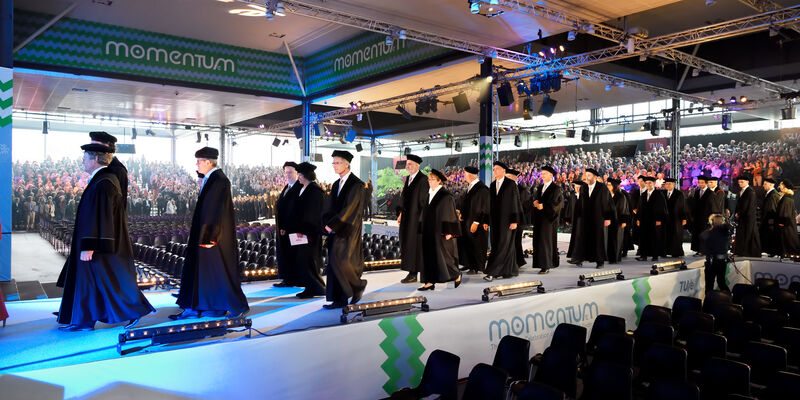 Campus

,

Student

06/10/2021
Preparations MomenTUm 2021 in full swing
MomenTUm, the show that contains all of TU/e's academic ceremonies, will take place in a slightly modified form this year. The celebrations have been split up into three sessions on October 15 and 16, and the first day will coincide with the opening festivities of the Dutch Design Week, which takes place on the TU/e campus this year. Bachelor's students who graduated during the corona pandemic have also been invited to participate, and the student party will take place on the day before MomenTUm instead of on the day after.
MomenTUm is primarily meant to offer graduated bachelor's students a podium. After the diploma ceremony, they are invited to take part in a walk of fame on the catwalk in Forum with one thousand of their fellow students. This year, they will be joined by students who obtained their diplomas last year but who were unable to celebrate exuberantly due to corona. Three thousand students in total have been invited. During previous editions, turnout was around eighty percent.
No gown
Before the start of the show, all students can collect their diplomas in Atlas or the Auditorium via a walk through. There, they will receive a bag that contains a pair of socks, a sash and a cap, but no gown. These have been ordered, but won't arrive in the Netherlands from China on time. "We will keep them," organizer Liesbeth Castelijns says, "and in the meantime, we've gotten very curious to know how people will respond to this. We would prefer to investigate how to use the gowns in a sustainable way."
Organizing such a large event takes quite a lot of work. In spring, it was expected that fewer corona restrictions would apply in October than during the original date in September. "A nice, and organization-wise rather difficult benefit is that we can now combine MomenTUm with the DDW and our lustrum year. The DDW chose our campus as the location for its opening ceremony this year, and the exhibition 'Artistic Heroes Like You' is on display in the hall of the Atlas building. That's nice for all our visitors, of course," Castelijns says. Each graduated student is allowed to bring three guests.
Diederik Jekel
The show will be presented by science journalist Diederik Jekel. After the walk of fame, which is scheduled to last thirty minutes, it's time for music by Quadrivium, dancing by Footloose, the video 'MomenTUm for You' and a few inspiring speeches by alumni. Artist Wilbert Pigmans, known from the Toreador, has been hired to create a festive atmosphere. Each show can be attended by 3553 seated guests and consists of several parts.
The Best Teacher Award ceremony takes place during the first show on Saturday. The Academic Awards will be handed out on Friday during a closed meeting, prior to MomenTUm. The 50,000st student to have graduated will be honored during the third session.
Honorary doctorates
Usually, TU/e presents its newly appointed honorary doctors during MomenTUm. Just before the most recent easing of the corona restrictions, TU/e decided to postpone this presentation to spring of next year because three honorary doctors would have to travel from the United States and therefore might need to self-quarantine for two weeks. "That was too much to ask, we believed. We hope to offer them a separate ceremony in 2022," Castelijns says.
Thursday evening party
Castelijns is glad that the student party was moved to a different date. "This year, students won't need to choose between going out to dinner after MomenTUm with their parents or partying with friends, because we moved the party at Forum to Thursday evening." DJ/band combination Starstruck and other artists can entertain 3600 students in the Markthal at MetaForum. Every student can buy a ticket (for five euros, for which you receive five coins), you don't need to be a graduate for that.