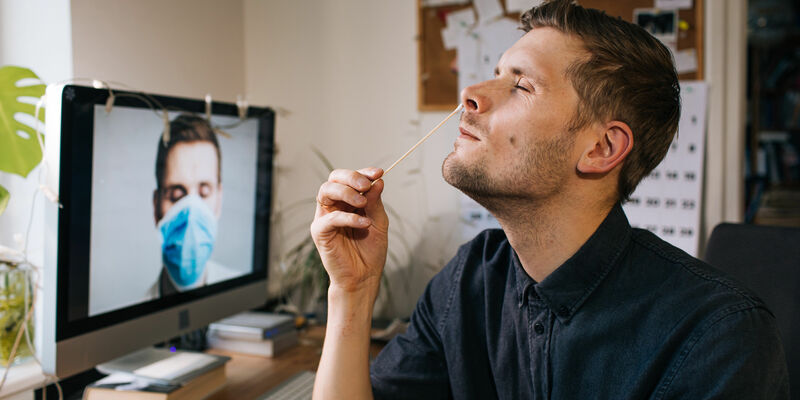 Education

,

Student

02/07/2021
A variety of pilot projects involving tests and self-tests were carried out in recent months at secondary vocational education and higher education level. It had been hoped that more face-to-face teaching would be possible if students and teaching staff took regular tests.
That was not the case. In a letter to the House of Representatives, the minister writes that the coronavirus tests in the pilot projects "have done little or nothing to make it possible to organise more face-to-face teaching".
Voluntary
Not many people have been prepared to self-test. The pilot projects show that only 25 to 30 percent of the students are taking part. One of the reasons for this is that the tests are 'voluntary': it makes little difference to the students whether or not they take part.
And are those self-tests actually successful? Good instruction helps of course, but one of the caveats is that "the greater margin for error than with tests done by professionals still poses a risk".
So students and teachers have to continue maintaining a distance of 1.5 metres, despite the self-tests. Consequently, universities and universities of applied sciences cannot yet schedule any extra classes.
This emerged at the beginning of April from the first pilot project to be completed, but the ministry was not prepared to accept it at that time. Let's wait for more results, they said.
Free
The cabinet had already decided that there ought to be free self-testing in the higher education sector. Almost half a billion euros were to be spent on it, although it proved to be a little less expensive. The educational establishments and student associations were not very positive about it but did not oppose it. The House of Representatives paid no attention to it either.
Thanks to the vaccination campaign, the number of infections is now falling. The hope is that universities and universities of applied sciences will be able to schedule normal teaching again next academic year, without social distancing and without self-tests.
Nevertheless, at an online presentation of the results yesterday Minister Van Engelshoven called the pilot projects "incredibly important". Something has indeed been learned from them and she wants to keep a record of that information in case new outbreaks occur.
Sphere of experience
For instance, information about self-testing and coronavirus ought preferably to be given "from within the students' sphere of experience", for example via education coordinators, academic advisors or teachers. These people therefore need to have sufficient knowledge.
Additionally, Delft University of Technology has been studying crowd control: how can you predict when it will be busy in the buildings and how can you ensure that people are not all in the same room at the same time? This involves issues such as rosters and walking routes. That knowledge is valuable, irrespective of coronavirus, so the university is going ahead with it.
Tender
Earlier this year, the cabinet took a quick decision to distribute self-tests free of charge (at a cost of more than 400 million euros). The tender did not proceed lawfully, the Minister writes. The portal zelftestonderwijs.nl is therefore shutting down earlier than was intended, on 1 August.
Universities and universities of applied sciences are unhappy about this: are they expected to do it themselves after that time? GroenLinks had already tabled a motion to keep the portal open longer but withdrew it pending the answer to that question.
In fact, the answer is that the self-tests will hopefully no longer be necessary and that if they are, the ministry can launch a lawful variant of this portal within two months. Supplies of tests can still be ordered until 1 August.
Moreover, the cabinet has introduced a temporary regulation for 'coronavirus access certificates'. Certain events and sectors will allow you in only with a negative coronavirus test. If the worst comes to the worst, that obligation can also be introduced in secondary vocational and higher education.