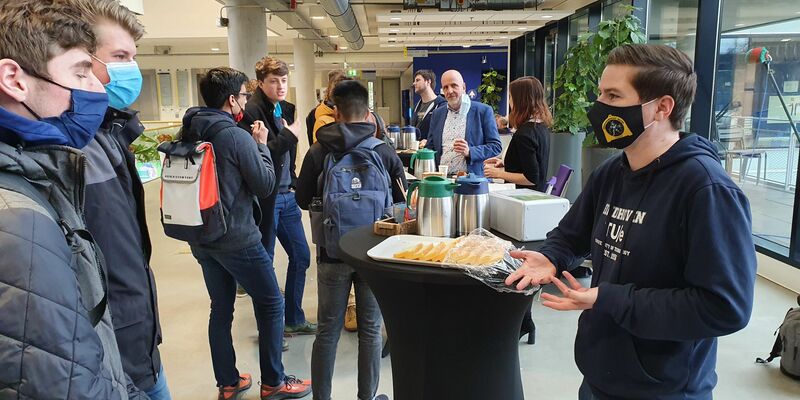 Education

,

Student

16/11/2021
Course evaluations help future students
The low response to the feedback forms about education must be improved. This is the sentiment at the departments of Applied Physics and Electrical Engineering, and so the forms will be sent out at a different time and student awareness of the value of evaluations will be raised during what are termed Feedback Days. Last year, only one in three students completed a course evaluation. "The feedback enables lecturers to improve their programs," says quality assurance officer Els van Rooij.
For a cup of coffee and a slice of good cake, students at the Feedback Days stand are willing to enthuse about the importance of course evaluations, but quality assurance officer Els van Rooij knows better. "The low response percentages to course evaluations are a TU/e-wide problem and they trigger a negative cycle: lecturers think the results are not representative and take them less seriously, which prompts students to underrate their value."
Besides this, what is actually done with the course evaluations is not transparent to students, thinks Van Rooij. "At any rate, they see scant personal benefit to be gained since they hope to pass the course and not have to repeat it. Any improvements prompted by the evaluation results won't impact them. What's more, a lot of students are not happy with having course evaluations sent out at various times during exam week."
After each exam students receive the evaluation form for that particular course. Van Rooij understands that their priority at that moment is preparing for the next exam.
A different way
The quality assurance officer is keen to address the problems now. For a start, there are the aptly named Feedback Days, held yesterday and today. At a stand in Flux, students have the chance discuss program feedback with lecturers (see main photo). In addition, student assistant Bram Lustenhouwer gives a short talk on the value of feedback when students are gathered for a lecture as part of a major course. A recording of his presentation will soon be available on Canvas as it has been held online to accommodate the corona measure of not exceeding 75 students in a lecture theater. As Lustenhouwer says, "My message is this, Do it for others. Pay it forward by giving feedback."
Secondly, the Electrical Engineering and Applied Physics departments are changing the timing. Instead of sending an evaluation after every exam, they will send all evaluations for Q1courses one day after the Q1 exam week. "This is a pilot to see whether it really does raise the response rate." Last academic year saw only 36 percent of Q1 forms completed, and in Q4 the percentage even fell to 21.
At the stand are first-year Automotive students Youri Lamers and Jesse de Rooij. The former has already completed a form; it dropped into his mailbox last Sunday. "I felt that in some lessons little attention was paid to difficult topics, while at the start of the course there was a lot of repetition. But it's not a big issue." Program Director Henk Swagten (AP) is also present. He finds the Feedback Days useful. "It is a pilot, but I expect it will be followed up."
Grumbling
Van Rooij: "Some students still don't realize that their answers on the evaluation form are seen by the lecturer of the course in question. On occasion, some really unpleasant things are filled in by students who are not happy with a course." The mails containing feedback forms are sent out by the central service Education and Student Affairs and adopt a general tone, which means students don't feel they are being addressed personally. "Unfortunately, that's a procedure that isn't so easy to change," says Van Rooij.
Feedback really can improve education, knows Van Rooij. Recently, Reinoud Lavrijsen was crowned master's lecturer of the year and she finds his reaction to this achievement very telling. "He said comments he could use to improve his teaching made him even happier than compliments." Van Rooij impresses upon all lecturers the need to tell students about course changes they have made in response to previous evaluations. This drives home that voicing an opinion can improve teaching and education.
A next step the quality assurance officer has in mind is teaching students to give constructive feedback. "We commonly see that in their frustration students are more inclined to grumble than make comments we can act upon. We'd like to tackle this problem in the next quartile."
The evaluations for EE and AP remain available to complete until November 28th.