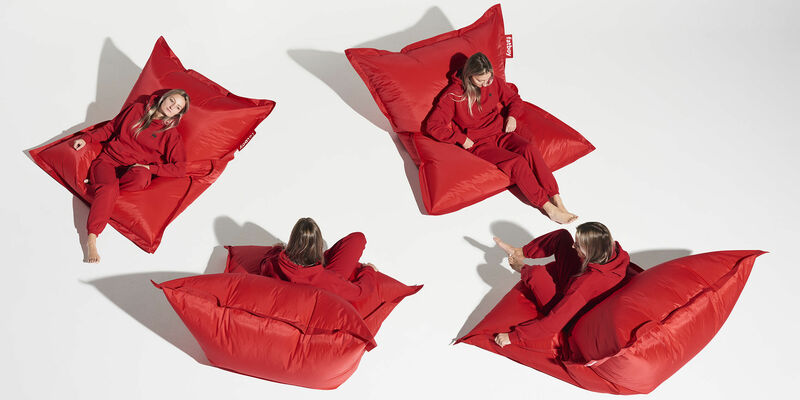 Corona

,

Research

,

Student

03/09/2021
Compact beanbags under vacuum
Dutch company Fatboy, mostly known for its trendy beanbags, feels strongly about sustainability. Bachelor's student Max Clement (Applied Physics) shows that Fatboy can cut down considerably on transport by applying vacuum to the polystyrene beads inside the beanbags so as to reduce the volume. Due to corona, he had to carry out the experiments in his parents' home using kitchen appliances.
Each year, Fatboy ships approximately fifteen thousand hand-filled beanbags from Den Bosch to customers all over the world. In his search for an environmentally friendly alternative to the polystyrene beads that serve as a filling for the beanbags, Fatboy's Tom de Vos came into contact with TU/e professor Kees Storm. When he heard that the company once made an unsuccessful attempt to reduce the transport volume of the beanbags with a vacuum pump, Storm suggested that a student look more closely into that.
The student entrusted with that assignment was Max Clement, who was sent a box with the polystyrene beads in question. "Using computer simulations, I had calculated that you can reduce the size of those beads by a quarter by creating a vacuum," Clement explains. "On top of that you would save space because you also suck out the air between the beads." When air reenters the beanbag, the beads will swell up back to almost their original size within just a few minutes. That is, if you don't 'vacuumize' too far, the student stresses. "If you do that, you'll crush the beads and destroy them, that is where Fatboy went wrong in their first attempt", says Clement, who carried out his project under supervision of Storms' PhD candidate Bart de Braaf.
Computer models are useful, but Clement also wanted to test his findings in practice. Unfortunately, TU/e's labs still aren't open to bachelor's students at this point due to the corona restrictions. Researcher Hans Wyss at Mechanical Engineering, expert in the field of these kinds of experiments, advised Clement to try using a vacuum machine for domestic use such as a kitchen appliance. The choice fell on the Amazon Basics Vacuum Sealer. "I could reduce the air pressure by two thirds using this device, and that proved to be sufficient to reduce the volume by one quarter."
Continue reading below the photo
Clement did however need to wait until the dining table in his parents' home was cleared before he could start his experiments with the vacuum machine, pressure gauge, wires, adhesive tape and measuring cups. "I didn't have enough space in my bedroom for that." The living room experimenter passed his improvised Applied Physics Bachelor's Final project with a grade 8. However, he will not continue down the path of experimental physics; next academic year, Clement will commence with the master's program Industrial and Applied Mathematics, a follow up to the bachelor's program Applied Mathematics, which he also completed successfully.
Tom de Vos of Fatboy is happy with the results. "Each saving is interesting to us. And a volume reduction of one quarter, from 400 to 300 liters, creates space for one third extra beanbags." That is why he says that Fatboy is currently investigating, in collaboration with the aforementioned Hans Wyss among others, how to vacuumize the beanbags immediately after they are filled. "We would prefer not to have to cover it with extra plastic. Sustainability has been a spearhead for us since a few years, that's why part of our products are made of fully recycled plastic and why our customers can order individual parts of our products, such as of our hammocks and lighting, separately, so that they will last longer. This initiative is perfectly in line with that."