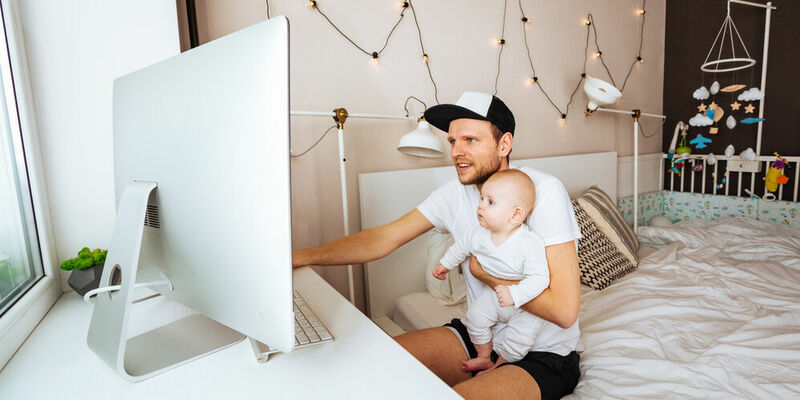 The University

09/09/2021
Customization is TU/e's motto for work 'post-Covid'
Will we all return to open-plan offices shortly, or is working from home here to stay? Will we hold hybrid meetings and what do we need for that? TU/e's Executive Board wants to give the services and departments the freedom to consult and agree on suitable solutions. In the meantime, new terms of employment for 'blended working' have come into effect, which will apply until at least December 31, including a reimbursement of 2 euros per homeworking day.
The university is gradually reopening. The social distancing rule in lecture halls has been lifted for groups of no more than 75 students per class, and the advice to work from home only applies from now on to those employees who don't need to travel to campus for teaching activities or research. Possible further relaxations of the corona measures are forthcoming. In the coming months, the services Information Management Services (IMS), Real Estate (RE) and Human Resource Management (HRM) will be looking for starting points on the basis of which each department within TU/e can put hybrid working into practice.
The Executive Board is of the opinion that TU/e is an 'on-campus' university, but it emphatically wishes to leave room for customization when it comes to hybrid cooperation. Based on that idea, discussions are currently underway with managers of the services and departments to hear how they feel about working from home and hybrid working, says Frank Kuipers, who participates in the responsible project group in his capacity as manager Occupational Health, Safety & Environment, and Radiation Protection (OHS&R).
"We strive for customization based on the needs of the departments and their employees. That will be shaped along three action lines: 'bricks,' 'bytes' and 'behavior.' We are currently occupied primarily with stimulating and supporting the discussion about this on every level. For 'behavior' we do so, among other ways, via dialogue sessions and support tools offered by HR. The Hybrid Canvas tool is an example of such a tool. This tool, designed especially for TU/e, can help each colleague and each team with the optimization of hybrid working, while retaining team results and wellbeing."
Tools
Hybrid working – where part of a team works at home and the rest works on the campus – will have to be facilitated with extra technological tools, Kuipers says. "For 'bytes,' IMS is currently busy identifying which areas are suitable for hybrid meetings and education. We definitely want to scale that up, but that depends on how soon we can have certain equipment at our disposal. At the same time, Real Estate is considering the 'bricks': how can we create possibilities in certain buildings, for example, that will allow people to consult in a low-threshold environment and to inspire one another."
That is the context, Kuipers says, in which a pilot project will start this fall in the Atlas building in which additional enclosed units where small groups of people can convene will be added to the large open-plan offices on floors 10 and 11. Similar pilot projects in other buildings might follow at a later stage. "We don't know at this point what will work and what won't, the entire country is looking for those solutions, so we will have to discover it together, step by step. That also requires flexibility from everyone. We will hopefully have a more concrete picture by the Christmas break, also in view of the new terms of employment that will come into effect next year."
Reimbursement
Because, as was announced in the corona update of August 27, the terms of employment home and hybrid working for the period between September 1 and December 31 of this year have been laid down, in part as a consequence of the new collective labor agreement Dutch Universities. This entails, in a nutshell, that it will still be possible for employees this calendar year to borrow a desktop and an office chair from TU/e for their workplace at home; it is expected that they will be allowed to continue to do so after December 31.
In addition, the travel reimbursement of 12 cents per kilometer on presentation of a detailed account will continue to apply for at least the remainder of this year. A 25 euros per month internet compensation will be supplemented with a new reimbursement of 2 euros per homeworking day, for which a declaration will have to be made, like the travel reimbursement, via InSite. That option, incidentally, is not available in the HR system at this point; work is currently underway to make this available in early October, Kuipers says.