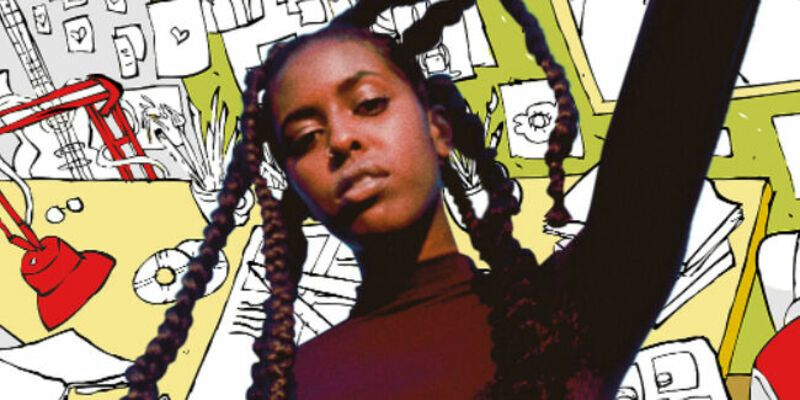 Cursor's newsroom turns into pop podium
Cursor's homebase in the Auditorium will transform into a small concert hall for a one-off concert. Soul singer Gaidaa from Eindhoven is scheduled to give an intimate performance there on Tuesday, June 14th. Liza Gloudemans from Studium Generale is the brains behind this unique gig: "We got the idea from the well-known Tiny Desk Concerts hosted by British radio station NPR Music. If it proves successful, we might start looking for more suitable locations in offices."
Instead of the usual sounds of computer keyboards and online interviews, you'll hear a beautiful singing voice coming from Cursor's newsroom next Tuesday. On that day, Cursor's editors will make way for soul singer Gaidaa during their lunch break. Tickets for this free lunch concert in the newsroom at the Auditorium are almost sold out.
Culture programmer Liza Gloudemans came up with the idea during the final phase of the COVID-19 pandemic. "Since theaters were allowed to receive only a limited number of visitors, we at Studium Generale were looking for more intimate locations." It didn't take long before a link with the so-called Tiny Desk Concerts was made. "I can spend hours watching their YouTube channel, where you'll find hundreds of concerts." And the list of names of artists who have performed in a small office space, including Sting, Coldplay and Alicia Keys, is impressive to say the least.
Gaidaa
And soon it will be time for the first TU/e version of an office concert. Next Tuesday, the stage – or better, the open space between the desks – belongs to up-and-coming R&B singer Gaidaa. She will be accompanied by just one guitar player on this occasion. Gloudemans discovered her by accident. "Singer Eefje de Visser had invited Gaidaa for the VPRO tv-show On Stage. I was impressed by her atmospheric and fresh sound, and then it turned out that she lived right here in Eindhoven."
How did Studium Generale end up with Cursor, in its search for a suitable office space? "Your newsroom is spacious and pleasantly furnished, with good sight lines for the audience. Our own office, for example, has a rather inconveniently placed wall."
Garden gnome
And why is it that concerts in these kinds of totally unsuitable locations – think of ceiling grids, coffee mugs and stacks of paper – make for such a unique experience? "That cozy, untidy and crowded atmosphere is precisely what makes it so intimate. But we will also furnish the office with a few props," Gloudemans says as she takes out a garden gnome flipping the bird.
Should the first TU/e Tiny Desk Concert meet with the approval of artist, producers and visitors, more editions might follow. Click here to order the remaining seats for Gaidaa.