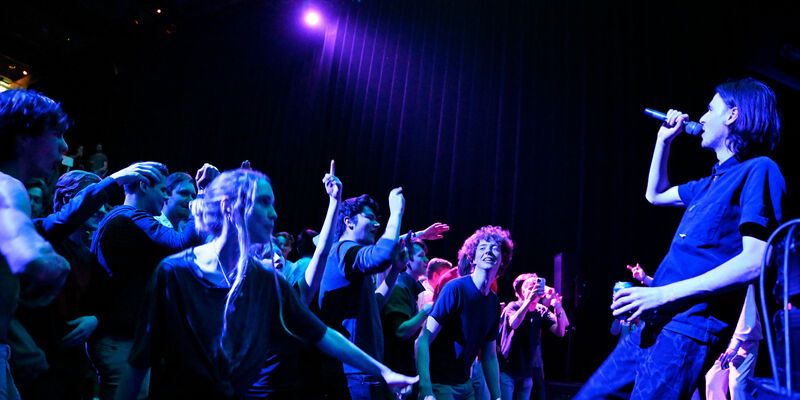 "Nothing beats a live experience in a theatre hall"
Studium Generale chooses to go offline. Lectures and podium programs will no longer (also) be available to viewers from home at least until summer, only to live audiences. Why this sharp decision? Lucas Asselbergs, head of SG, explains why and talks to Cursor about the challenges and accomplishments of two online years.
Direct contact with artists or speakers, responses from audience members, sharing your thoughts afterwards, in short: "Nothing beats a live experience in an auditorium." Lucas Asselbergs, head of Studium Generale (SG), is glad to be able to welcome an audience again, live and without any COVID restrictions, in the Blauwe Zaal, Corona Room and the Zwarte Doos.
It's been two years since SG suddenly had to close all venues to the public. During that period, the team gained a wealth of experience – in collaboration with audiovisual professionals – in producing online programs about culture and socially relevant issues.
Both the members of the SG committee and the artists are obviously happy to finally welcome the audience 'irl' again after such a long time. But why did SG make the rigorous decision to only produce 'old-fashioned' programs for a live audience from now on, instead of presenting them in a hybrid form so that people from home can join in as well?
Cycling
"There are a few clear reasons behind that decision. First of all, recording and streaming programs with high quality picture and sound is expensive. Second, it's not easy to cater to two kinds of audiences simultaneously: directing and producing an online program is not the same thing as producing a program in an auditorium."
Read more below the photo
"And finally, we cannibalize on our live audience when we offer a program online at the same time," Asselbergs says. Opening your laptop at home simply requires less effort than cycling to campus. That is why SG decided to only sporadically videotape its programs from now on, simply to present visitors to the website with a taste of the atmosphere.
Instructive
It may be true that nothing beats a live experience, but even so, Asselbergs looks back at two years of COVID as an instructive period during which the team gained a wealth of knowledge about producing online programs. That turned out to be easier, incidentally, in the case of movies, lectures and talk shows than in the case of music or theatre shows – it's more difficult to capture the experience of an actual performance on a small screen.
"However, an online program allows you to do things you couldn't possibly do in an auditorium. We can have international film makers join a discussion about their work without having to fly them over. And when we organize programs about events with a major impact on society, such as the US elections and the Hong Kong protests, we can ask people who are actually there to share their experiences."
Quiz
Going online also makes it easier sometimes to serve a large audience. SG's online quiz reached several thousands of first-year students during the Intro. And over five hundred people logged in during the US presidential elections.
Read more below the photo
Asselbergs: "And online also offers you the opportunity to ask audience members for their response." You might 'feel' the atmosphere better in a hall, but you can directly measure people's opinions of a program online by using the chat function and a poll afterwards.
Theo Maassen
What exactly are SG's visitor numbers now that live audiences are welcome again? Many cultural institutions in the Netherlands are complaining that their ticket sale is nowhere near the level before COVID-19. Luckily, SG isn't really affected, Asselbergs says. The concerts by Quadrivium were completely sold out, as was – no big surprise – a try-out by Theo Maassen.
"We would however like to bring the movies in the Zwarte Doos to people's attention a little bit more. We have two generations of new students since the outbreak of COVID-19 who have no idea that our campus has such a beautiful cinema. You won't find that many venues with that kind of legroom."