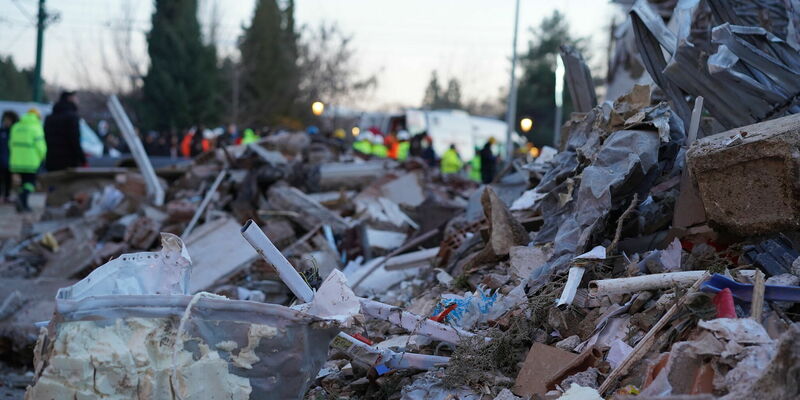 The University

,

Student

10/02/2023
Turkish students and TU/e raising money for earthquake relief
Around ninety Turkish students have united to organize as much aid as possible for the regions of their country that were hit by the earthquakes earlier this week. They have already gathered more than thirty boxes of supplies and are now focusing on raising money for aid organizations that are directly involved in recovery efforts and relief in the region. TU/e has opened an online collection box at Giro555, to raise additional funds for both Turkiye and Syria. The Executive Board will match the total donated amount.
People trapped under the rubble calling out for help, collapsed buildings and more devastating images and reports have been reaching Turkish TU/e students daily, since two major earthquakes hit Turkiye and Syria last Monday. The current casualty figures stand at more than 21,000 dead and thousands injured. Computer Science bachelor's student Bora Özen and master's student Akin Parkan are two of around ninety students who have united in a Whatsapp group after the events. They support each other and look for ways to help the people in their country more than 3000 kilometers away.
Under the rubble
The students want to stress how extraordinary these earthquakes are. Parkan: "The magnitude of the disaster is unimaginable. Airports and hospitals are unusable. The region is inaccessible. There's a lack of rescue teams and a lack of basic necessities. On top of that, it's extremely cold right now; people are dying of hypothermia." Some of the students in the group know people who are stuck under the rubble, says Özen. "The chances of them getting out alive are getting slimmer every hour. You see people getting rescued on the news, but those are miracle rescues." The student is from the affected area, but thankfully has no close relatives who are trapped under the rubble or injured. Still, both Özen and Parkan, and all the other Turkish students for that matter, are utterly devastated by what is going on in their country. That is why they are now making great efforts to help out as much as they can.
The students found out that there were trucks taking donated items to the affected area and started collecting supplies, like clothes, blankets, boots and sanitary supplies. They were able to fill more than thirty boxes of supplies, which were transported to Turkiye last Wednesday. Collecting more supplies is currently not beneficial, because the damaged infrastructure makes it nearly impossible to get the items to the affected regions. The students are now focusing on raising money. They want to set up a stand on campus, where they can sell baked goods to raise money.
The Turkish student community has met with representatives of the university, to discuss possible help in raising awareness and money. TU/e has already contacted Turkish as well as Syrian students and employees earlier this week to offer support, before publishing a message along the same lines on the Intranet and social media. The university has now also set up an online collection box at Giro555 and is working on a large-scale campaign, which will launch on Monday. The Executive Board will double the total amount donated by the end of the national fundraiser day on Wednesday.
Initiatives
There is no complete overview of all initiatives on campus relating to the earthquakes, but departments are also taking action on a smaller scale, like the department of Electrical Engineering. The Department Board published a letter on the Intranet, stating that it has 'set aside a special budget to support individual cases, for example by extending contracts of PhDs/EngDs/PDs.' Both the university and the Department Board of Electrical Engineering have also informed students about who they can turn to for mental support.
That mental support is needed in these extremely difficult times, says Özen. Also from fellow students. "So please ask Turkish and Syrian students how they're feeling and if they need anything, just out of kindness. People are really having a hard time right now." Even though it is hard for the students to focus on their classes, they are not asking for any time off. "The economy in Turkiye is not very good; it's very expensive for many students to live and study here. So the majority of Turkish students want to graduate as soon as possible. That also makes it harder for people to be involved with helping out now."
In this together
Still, they want to do whatever they can. They will continue to raise money for Ahbap, a foundation they trust will spend the money wisely. "They directly use the money in the affected areas and are arguably the most trustworthy organization right now", says Özen. Even though the students are focusing their efforts on Turkiye, they do want to stress that Syria is also in need of help. "We are in this together." So far, ESA says that no Syrian student has contacted them for help. To Cursor's knowledge, there are no initiatives that focus on specifically raising money for Syria.
Anyone who wants to help out in any way can contact the students by emailing them at turkishstudentstue@remove-this.gmail.com. They are currently only focused on raising money, because sending supplies to the affected regions is almost impossible due to damaged infrastructure.