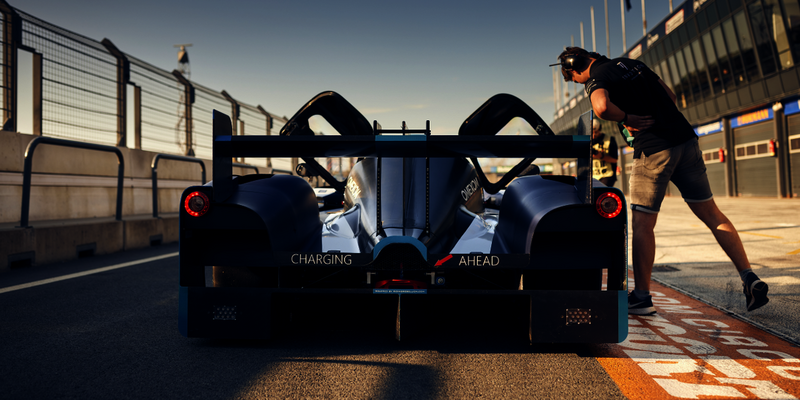 InMotion organizes career event at Circuit Zandvoort
InMotion, the student team working on accelerating the energy transition in the automotive industry, has chosen an appropriate location for a student career event: CM.com Circuit Zandvoort. In addition to exploring your career options, you can win a very special experience at the event: riding shotgun in the team's Revolution race car.
Partnership manager Hieke van Heesch and marketing manager and recruiter Charelle Polderman of InMotion expect the tickets for the event on 8 March to sell like hot cakes. "It's a very unique experience we're offering," Van Heesch says. "Most race cars of this caliber don't even have a passenger seat. None of us have ever ridden along, let alone been at the wheel, because you need a racing license to drive such a fast, big car (1,300 kilos, over 4.5 meters long)."
The team is very passionate about the electrical car industry and increasing the charging rate of the vehicles. "We can now charge our car in twelve minutes, but we are working on a second-generation battery pack that can do it in a matter of minutes," Van Heesch says. "Our partners play a vital role in everything we do. They came up with the idea and they help us develop the race car, the battery pack and our team. We want to return the favor by helping them find students of technology such as ourselves, who may be looking for a work placement, final bachelor's project or traineeship. At the career event we can match supply and demand. CM.com Circuit Zandvoort is also one of our partners and they obviously offer a location that's in perfect keeping with the theme of the event."
There's a possibility the visitors to the career event will be a bit distracted, as it takes place above the pit boxes and overlooks the circuit where the Revolution will be doing laps. They will also be offered a short tour. They won't be able to drive themselves, but this job will be in safe hands with technical test driver Kevin Abbering. Van Heesch: "He has experience driving for us and knows exactly how our car works. He also did a lot of rally racing." Eighty tickets will be sold for the event and the seat next to Abbering will be filled by the lucky student winning the raffle. What kind of speed they will experience on the track? "Around 220 to 230 kilometers per hour on the straight," Van Heesch informs us.
Cool
Won't the team members be a bit jealous of the winning student? Polderman: "Of course we will. But we have a big team and if everyone wanted to take a spin, it would take a lot of time. Normally there's no passenger seat anyway: we put it in for the occasion. And none of us have racing licenses, which are quite expensive to get. Luckily, it's also really cool just to see the car in action," she guarantees us.
To the students the event also feels like an opportunity to show "how awesome it is to be on a student team," Polderman says. "You learn a whole lot about the car and about sustainable mobility, but you also get to see all of these great places you wouldn't normally visit. And you rapidly expand your network to boot."
The event will include transport and food, but it's not just a cool outing. "Van Heesch: "You'll work on cases together with our partners. There will be two rounds, so you can choose two cases from a broad range of topics. Afterwards you'll be able to network informally with the companies. The event is suitable for all bachelor's and master's students that are looking for an internship, final bachelor's project, graduation project or job. Tickets are 5.50 euro.