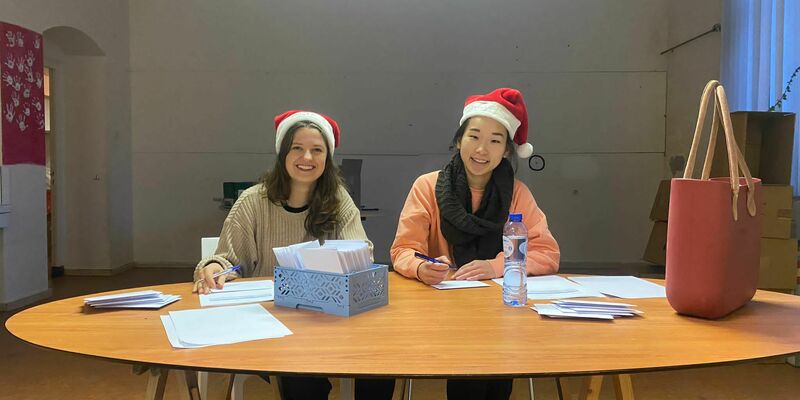 Christmas is coming
Master's student Martje Wijnen subscribes to the view that shared joy is double joy. And so, together with a friend, she is setting up an Eindhoven branch of the national charity Rocking Up X-mas. With its sponsored Christmas boxes, the organization is keen to offer help to people in financial difficulty but who aren't guests of the Food Bank. "At least we can make sure they have all the ingredients to produce a Christmas dinner."
Martje Wijnen has always felt impelled to fight for equality and help the less fortunate in society. Now that she is doing a double master's at TU/e (Innovation Sciences and Sustainable Energy Technology), she is also managing to find the time to set up an Eindhoven division of the Rocking Up X-mas charity, together with her friend Jasmijn Asselberghs.
"The idea is to surprise people in need with a luxury Christmas box containing all the ingredients for a Christmas dinner, and possibly more, such as other products and gifts, although this will depend on the budgets and sponsors available. The gift is anonymous, which is important because poverty is often accompanied by feelings of shame," says Wijnen (left in the photo).
Do-it-self
This idea arose when, sometime last year, she read a newspaper article about the national charity Rocking Up X-mas. "Back then, Jasmijn and I wanted to sign up as volunteers, but it turned out that the organization wasn't yet active in Eindhoven. And so we asked whether we could set up a local branch."
They were given the green light a short while ago, in the form of an email address and a spot on the website, a chamber of commerce number, and 1000 euros of start-up capital in a bank account. "We are still in the initial phase, but are already making headway. Right now, to make this project a success, we could use all the help and tips the TU/e community has to offer. For example, we are still looking for a suitable space in which we can pack up the boxes and can get in touch with companies that may want to sponsor food or gifts."
Together with community manager Erik de Jong, they have now discussed having a stall at the TU/e Christmas Market. "That starts on Tuesday December 6th, I think, which is a little late for us. Although we can see the benefits of working with caterer Appèl. Perhaps we can sell hot chocolate drinks for them at the market in exchange for sponsored packs of drinking chocolate? We're keen to discuss some kind of deal like this with Appèl."
For whom?
The target group is not families who are guests of the Food Bank. Wijnen and Asselberghs have produced a registration form they are offering to charities such as VluchtingenWerk, which provides help for refugees. People can use it to sign themselves up for a chance of receiving a Rocking Up Christmas box.
The friends won't be able to pack the boxes in their student rooms. Wijnen has heard from the head office that a room measuring 80 square meters wouldn't be oversized. "We really hope that someone can help us out. We are also looking for another fifteen volunteers who want to help with packing on December 23rd, and fifteen drivers with their own vehicles who want to make the deliveries."
On the website you can offer your tips or sign up as a volunteer.