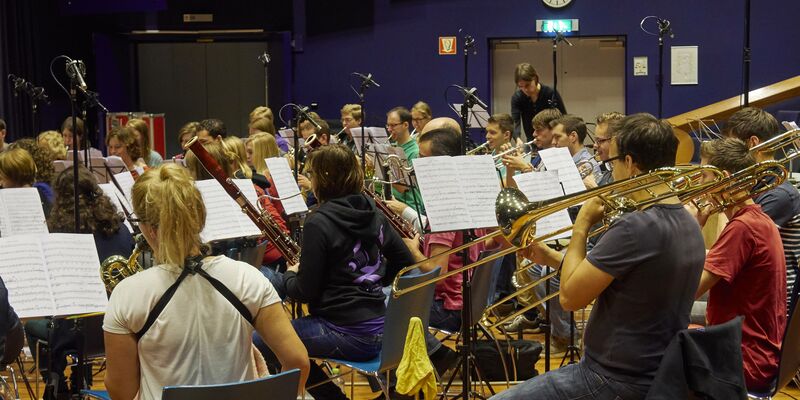 Presenting classical music to the greater public in different, more accessible ways: that's the objective of Eindhoven student music group Quadrivium for its fiftieth anniversary this year. And they've decided their theme is Light. "Is there anything more fitting than GLOW?", says Elvira Koolen of Quadrivium's GLOW Committee.
The organization of the light art festival took to the ideas of the student musicians and green-lighted their GLOW Music project. Quadrivium decided to team up with Boxtel light artist and spatial designer Jaap van den Elzen.
The result of their joint effort is a light installation that responds to music by the four Quadrivium musical ensembles. The first two nights of the light event -Saturday 8 and Sunday 9 November- will be graced with live performances by concert band Auletes, symphony orchestra Ensuite, mixed choir Vokollage, and recorder ensemble Sumbuca. Each has their own program, which makes for an evening concert in Schellensfabriek at Vestdijk.
The orchestras will take turns sitting below a large LED panel that shines down, responding to the music that's played at that very moment. "Our orchestras are the canvas for the light artwork", says Anniversary Officer Laurent van den Bos. A total of roughly 120 Quadrivium musicians will be playing during GLOW.
The other six nights of the event, GLOW Music will be working with Wave Field Synthesis. Last month, every sub-association of Quadrivium has recorded several pieces of music that will be played using above audio technique during the event. To that end, 192 speakers are positioned so that they form a square. "Wave Field Synthesis can guide sound in a way it seems the orchestra is actually playing live", according to Koolen. The area is filled with smoke, Van den Bos adds."So all other images disappear. It will be solely about light and music."
Quadrivium expects twenty thousand visitors to attend each of the two night of live music. Whether they'll sit through most of the concert, stay until the end, or drop in for only five or ten minutes doesn't matter to Van den Bos. "We hope people hear our music, leave, and think: Hey, that was classical music, and it was kind of cool!".
520,000 people visited GLOW last year. Click here for more information.