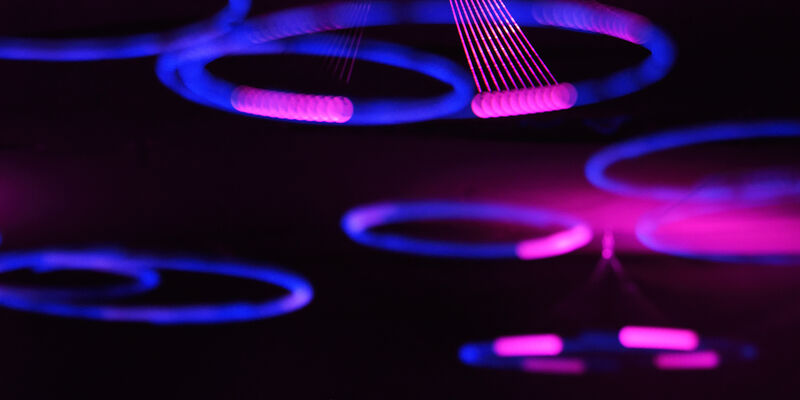 Causing confusion. That's basically what the five TU/e students who developed 'Rigid Motion', a light installation for GLOW NEXT, go for. Over the past year, architects and designers -under supervision of Rombout Frieling and Har Hollands of the Intelligent Lighting Institute- have been toying with key concepts movement and perception, all in light of their honor's track 'Light Force'.
How do eyes and the brain work together? And what makes their interaction fail every now and then? The latter question has been the main inspiration for the installation, created by students Leroy Spiekerman van Weezelenburg, Willem, Zwagers, Rosa Hendrikx (all Industrial Design), Maaike Smits and Bas Gradussen (both Built Environment). Rigid Motion wants to visualize that movement is composed from fragments, and how our brain, with the help of light, can be tricked.
The students developed "a kind of starry sky of white dots" measuring ten by four meters, which will be displayed in the Yksi exhibition space at Strijp-S, says Leroy Spiekerman van Weezelenburg. The white dots are continually moving, but it's initially unclear how exactly. The students are reluctant to reveal too much about the technique behind Rigid Motion. "It should remain a mystery, that's what makes the installation powerful. It's not supposed to be described in words and images - it should be experienced."
Until GLOW kicks off, we'll have to do with the description found on the event website, which says, among other things: 'We can discern about 30 images per second. The rest is uncertain. By using lighting methods to "halt" a number of fast-moving objects in the space, this installation makes us aware of this uncertain perception of movement and the limitations of what we can actually see'.
The installation definitely required quite some home-crafting. Scattered around the group's workspace on the fifth floor of Hoofdgebouw are fifty disassembled fans and dozens of ping pong balls. How these are integrated in Rigid Motion is up to the visitor to find out from Saturday. The installation has a pre-programmed light program that lasts three minutes, which is accompanied by quiet, electronic music.
520,000 people visited GLOW last year. Click here for more information.