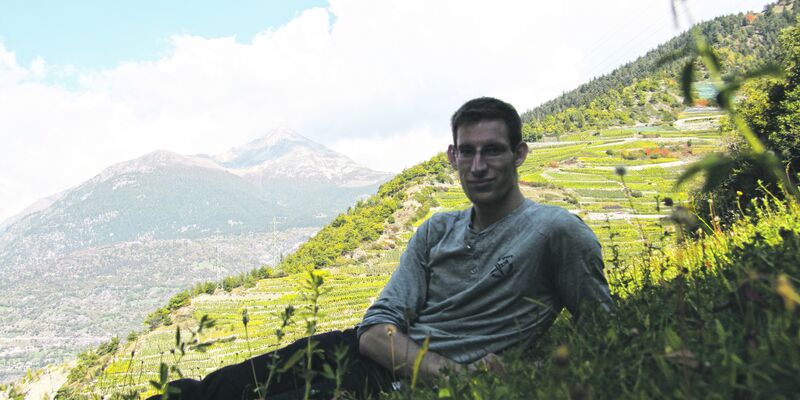 And how are things in Lalden?
Valais is the sunniest region of Switzerland. This bilingual canton is further known for its many mountain cheeses, fruits, wines and its winter holiday destinations. I'm Tom Hoeben, student of Chemical Engineering and for the past three months I did my internship in the heart of the Alps at DSM in the vitamin industry.
Summer lingered for a long time over here, giving me the opportunity to explore the surroundings by going on many mountain hikes, from grassland to the highest vineyard to Europe's largest glacier. On top of the mountain you have an amazing view over the Alps and the valley. On the way back I visited the beautiful mountain huts to enjoy authentic cheeses and sausages.
Along ski jumping, slalom and cross country skiing, the Swiss really love their ice hockey. The small village has its own stadium. Early December they played National champion Zurich. It was ann historical moment, as there were more supporters than inhabitants in Lalden.
When other trainees and I visit the weekly farmers' market, we feast on spicy cheeses and local wine. The volleyball association doesn't shy away from toasting to the good life, either. You will definitely not starve here. TheSwiss are also familiar with Dutch staple dishes like stamppot, pancakes, apple sauce and Dutch syrup.

As I'm writing the first snow is falling in the valley. It's Christmas time, the most beautiful time of the year and... My family is coming! I put up a Christmas tree in my apartment and the table is set. During the day we will make a snow tour and drink Glühwein at the Christmas market in town. New Year's Eve will be celebrated with my volleyball friends, enjoying cheese fondue in a mountain hut on the glacier.
I will stay here for a short while longer, so I can enjoy the upcoming winter sports season.
Happy New Year and see you soon, Eindhoven!