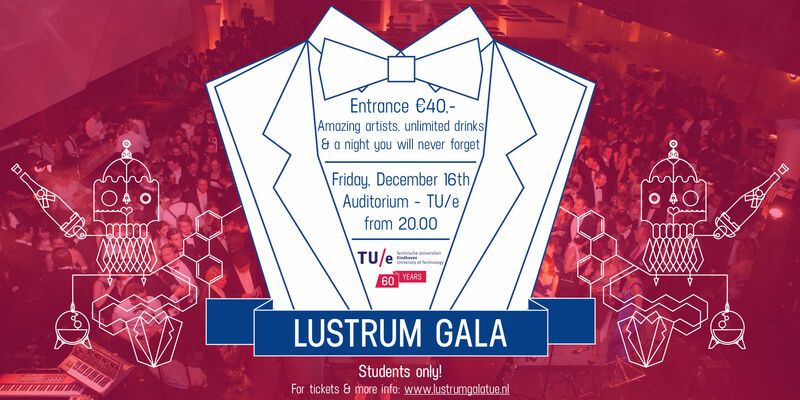 Auditorium venue for lustrum ball
TU/e's own Auditorium will be the venue on December 16 for the lustrum ball held to celebrate TU/e's sixtieth birthday. Whereas on previous occasions it was decided to go off-campus to a castle, the Klokgebouw or city hall, this year the organizers have deliberately chosen this site within the university grounds. It is "a location that as a student you know very well, but not in this way."
For most students, given that it is where they eat their sandwiches and consume their much-needed doses of caffeine, the Auditorium does not spring to mind as the ultimate ball venue. But if they attend the lustrum ball, they will be surprised, assures co-organizer Rogier de Rijk. An external company that is also managing the light and sound will ensure that the Auditorium "is transformed into a venue worthy of a ball."
Fifteen hundred tickets (at forty euros each, including drinks and snacks) will go on sale Monday October 24. The party is primarily intended for the university's students and PhD candidates; students can buy two tickets each through their student.tue.nl account, PhD candidates should mail the organizers. Guests are welcome.
The music will be provided by, among others, disco-funk band Mr. Nice and the Hermes House Band. The organizers are also in discussion with some of TU/e's own student bands.
Ball guests are welcome to arrive on December 16 from 20.00 hours onwards; in any event the party will go on until 2 'clock in the morning. A later finishing time is on the wish list but, says De Rijk, is still under discussion with the municipality and other parties.